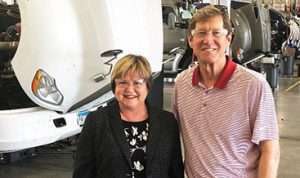 Late last month U.S. Rep. Jason Lewis (R-Minn.) visited Rihm Kenworth in South Saint Paul, Minn.
The visit included a tour of the dealership, a discussion on a bill to repeal the heavy-duty truck federal excise tax (FET), and a ride in a heavy-duty truck.
During the meeting, Kari Rihm, president and CEO of Rihm Kenworth, requested that Rep. Lewis cosponsor H.R. 2946, a bill introduced by Rep. Doug LaMalfa (R-Calif.) that would repeal the federal excise tax (FET) on most heavy-duty trucks.
"Getting rid of the FET would allow my employees to sell more trucks. The cost of trucks continues to increase, and in turn, the FET gets more painful for my customers. Anyone buying equipment in our industry needs relief from this upfront cost, and we need to find a better way to contribute to the funding of our federal roadways than a 12-percent sales tax," says Rihm.
Rep. Lewis, who represents the 2nd Congressional district of Minnesota, is serving his first term in Congress and serves on the House Transportation and Infrastructure, House Budget, and House Education and Workforce committees.