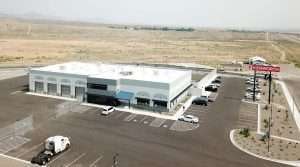 Kenworth Sales Company has relocated its Elko, Nevada, dealership to a new parts, service and sales location located in a new industrial park near Interstate 80.
The new eight-service bay location at 4224 Ruby Vista Drive is two miles from the previous site and sits on six acres on the North side of I-80, a major east-west transportation corridor. Kenworth Sales Co. says it features an ample parking lot providing room for truck drivers to park and maneuver their trucks and trailers and drop off after hours.
The location features a 20,000 sq.-ft. building with a more than 6,500 sq.-ft. parts department offering a large inventory as well as delivery throughout the greater Elko County area. The service department offers drive through bays with state-of-the-art equipment. Kenworth Sales Company says there will be 16-20 employees at this location, creating six new jobs. Mike McKay, District Manager over the area, anticipates an annual revenue of over $4.5 million.
"This new store will allow us to better facilitate the needs of our customer base in the Elko area," McKay says. "Kenworth has been servicing the Elko area for more than 10 years. Our old downtown location provided no room to grow and made for difficult maneuvering for truck drivers. Drivers will find this new location much more accessible and convenient with its large parking lot and proximity to Exit 303 on I-80. We are always looking for ways to better serve our customers and look forward to enhancing customer experience with this new location."
Hughes General Contractors is heading up the project with the help of a number of local subcontractors.
"It was important to us to use local businesses in this project," says Kyle Treadway, president of Kenworth Sales Company. "We want to support and work with our neighbors in an effort to be good contributors to the community today and moving forward."
Management at the Elko location includes Kelly Foster, parts manager and Tim Ward, service manager. Parts and Service are available from 7 a.m. to 5 p.m. Monday through Friday, and Saturday by appointment. Kenworth Sales Company says a ribbon cutting ceremony was held at the new location (4224 Ruby Vista Drive, Elko, Nevada) last week.