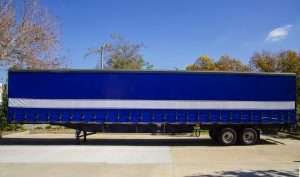 Utility Trailer Manufacturing Company announced Wednesday that Kin-Sider from Kinedyne will now be the new standard curtain installed on Utility's Tautliner curtainsided trailers.
"We are pleased to partner with Kinedyne, a long-time supplier of Utility, to make the Kin-Sider our new standard trailer curtain. Our customers will find that its high-quality welded and lighter weight design makes the curtain easier to open and close," says Steve Bennett, vice president of Utility Trailer. "The Kin-Sider features an easy-to-use buckle and hook assembly that utilizes a 'pull-to-release' action instead of a push-to-release buckle method. Users will find this system much easier to use, especially in winter conditions."
According to the companies, the curtain is made of a durable, flame-retardant PVC-laminated polyester substrate material. The tensioning system on the Tautliner with Kin-Sider curtain provides a secure, weather tight fit. Additionally, the curtain interior contains sonically welded PVC-saturated polyester reinforcement straps.
Utility Trailer adds that high-quality digital graphics can be applied as an option and full digital graphics come with an exclusive anti-graffiti coating, which is resistant to foreign agents such as spray paint. Standard curtains are white but are also available in a number of colors.