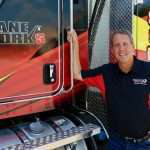 CraneWorks, a top provider of lifting solutions, has named Mike Shavlan director of sales for the Southern Region.
He will have a team of nine reporting to him in a territory covering Alabama, Florida, Louisiana, Mississippi, Texas, and Southern California. Shavlan brings more than 20 years of experience to his role; previously, he held a number of positions with Rush Truck Centers, including district regional manager.
Keith Ayers, CEO of CraneWorks, says Shavlan's career experience is key for three reasons.
"Now that we have Mike in place, we will build on our growth over the last 12 months," says Ayers. "We'll also align our sales goals with the Northern Region, which is headed up by Bob Maze. In addition, because Mike's experience is rooted in our industry, he understands the needs of our customers and prospects. His skillset is extremely valuable."
"People buy from people," adds Shavlan. "Our goal is not only to increase sales, but also to expand our market presence and footprint, and to become known as a leader in crane sales and rentals."