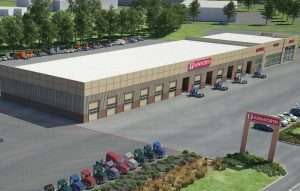 Kenworth Mid Atlantic – Baltimore recently became the newest addition to Kenworth Truck Company's dealer network with its recent opening through a partnership between Tri-State Kenworth and Chesapeake Truck.
"We look forward to offering The World's Best trucks and delivering the best parts and service support to fleet and truck operators in the Baltimore metro area. We see a tremendous opportunity because of a great need for Kenworth trucks brought on by significant investments in new distribution centers by Amazon, Under Armour and Tradepoint Atlantic," says Scott Patrohay, dealer principal of Tri-State Kenworth and CEO of Kenworth Mid Atlantic.
"Trucking companies are vying for the best drivers, and Kenworth models such as the T680 and T880 can provide compelling comfort and other benefits to drivers. With our well-equipped full-service dealer location, Kenworth Mid Atlantic – Baltimore also will provide fleets and truck operators with responsive parts and service support, helping drivers get back on the road quickly," he adds.
Kenworth Mid Atlantic – Baltimore features 20 service bays, with two-hour truck diagnosis through Kenworth PremierCare ExpressLane. The 26,000-sq.-ft. full-service dealership, located at 8540 Pulaski Highway, near the intersection of U.S. Highway 40, U.S. Interstate 695, and U.S. Interstate 95, also features a 12,850 sq.-ft. parts department.
"The addition of Kenworth medium and heavy duty trucks fully complements the array of products and services delivered by Chesapeake Truck aimed at helping commercial clients power their businesses," adds Wendy Nieberlein, president of Kenworth Mid Atlantic.