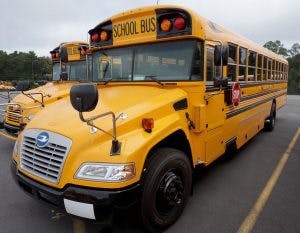 Cooper Tire's WORK Series truck and bus radial (TBR) tires have been selected as standard on Blue Bird school buses. Cooper also announced it will meet with students as part of the annual Manufacturing Day.
"We are very pleased to be selected by Blue Bird as original equipment on their high-quality school buses that transport children to and from school every day across North America. Both Cooper and Blue Bird have a long history of producing exceptional products, and we are thrilled to be working together through this new partnership," says Gary Schroeder, executive director of Cooper's truck and bus tire business.
Launched earlier this year, Cooper brand TBR tires are designed to deliver quality and value. The WORK Series line, which has been developed specifically for buses — as well as regional-haul, pick-up and delivery applications — offers a wide tread footprint to maximize traction. The tire balances fuel efficiency and tread life with scrub-resistant properties, and offers a full-width, four-steel belt package to provide the casing integrity needed to handle multiple retreads, the company states.
"We are looking forward to offering Cooper tires as standard on all of our buses," says Mark Terry, chief commercial officer at Blue Bird Corporation. "Cooper has created a product that meets our need for safety in the transportation of students every day. Plus, it has a great, seven-year warranty with up to two retreads, making it a cost-efficient solution for our customers."
Marking its fourth year as a member of the National Association of Manufacturers' (NAM) and Manufacturing Institute's (MI) Dream It. Do It. program, Cooper Tire will connect with more than 10,000 students — primarily eighth graders — for Manufacturing Day (MFG Day) events throughout October, according to an announcement.
Cooper will focus on the communities where the company has major facilities, Findlay, Ohio; Texarkana, Ark.; and Tupelo, Miss. In addition to participating in some communitywide efforts, the company will host its own "Cooper Manufacturing Experience" events. These interactive, hands-on events have been planned by the company's Dream Team, a group of approximately 40 early-career employees from across the company who work with students year-round to educate and improve the image of careers in manufacturing with the goal of strengthening the future workforce pipeline.
"If we want students to consider careers in manufacturing, we need to show them firsthand how exciting and technology-driven today's manufacturing environment is," says John Bollman, Cooper's chief human resources officer. "To effectively reach students, nothing beats Cooper's Manufacturing Experience, which gives them an opportunity to see, touch and try equipment and talk directly with people who are part of the everyday working world here at Cooper. Every year, we witness the perceptions of students change right before our eyes once they see and understand what we do and envision themselves a part of it someday. That's powerful."
Matt Petr, product design engineer for Cooper's North America Technical Center, says, "I joined the Cooper Dream Team because I want to be a part of something that has a positive impact on the future of our community and our company. I enjoy helping students understand how interesting and complex manufacturing is, and that careers in our field can also be creative and fun. My goal is to help students get excited about the infinite career opportunities available in manufacturing and get them to begin thinking about what they need to do now to prepare for their future."
Patrice Fitte, manager, distribution and operations planning, Cooper Texarkana, adds, "I love helping to educate young people on the fascinating careers available in manufacturing. I want to show the students, as well as the parents and teachers, that manufacturing offers rewarding careers and the opportunity to work in exciting and innovative environments. My goal is to have the students leave Manufacturing Day truly inspired to pursue a career in manufacturing."
While National MFG Day is officially Oct. 5 this year, the Cooper Manufacturing Experience will be offered to students throughout the month of October in Cooper communities.