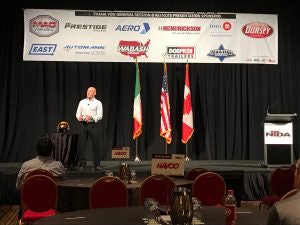 When it comes to operational excellence, there are few organizations more streamlined than the United States Military.
John Foley knows that all too well. During a distinguished aviation career in the U.S. Navy that saw him rise to lead solo pilot of the Blue Angels, Foley has spent his entire career working to achieve and sustain excellence. As keynote presenter Thursday at the 2018 National Trailer Dealer Association (NTDA) Convention in Colorado Springs, Colo., Foley shared the most important teamwork traits the Blue Angels have implemented into their organization to maintain their status as the one of the most daring, yet safest and skilled flying teams in the world.
Foley says acceptance into the Blue Angels starts with a commitment by each pilot to close the gap on their High Performance Zone. Foley says the High Performance Zone is the gap between "where we are and where we want to go." For him to join the Angels, that meant reducing his personal best distance in which he had flown next to another plane from ten feet to three. In the trailer industry, it could mean reducing delivery times, increasing customer response turnaround or shortening average service repairs. The key, he says, is narrowing in on what needs to improve in one's business and focusing tirelessly on how to improve it.
Another important trait Foley says is valuable to the Blue Angels and can be replicated in business is alignment. When in the air, Foley says the Blue Angels select a center point on the ground that all six pilots can use as a reference point for their aerial maneuvers. He says the same can be done in your business. Determine a center point that's important to your operation — whether it be customer-facing or sales based is up to you — and ensure your entire employee base is aligned around that core principle.
But maybe the most important trait to team success is trust. Foley says the Blue Angels view trust as "the key to execution." In business, Foley says associates must trust each other to complete the tasks in which they are assigned for an entire business to move forward. Foley says the Blue Angels use verbal and non-verbal agreements to communicate trust.
He adds, "If you're where you're supposed to be, I don't need to hear from you. [But] if you are off, say something quickly."
This is where debriefing sessions are helpful, Foley says. The Blue Angels have a "Glad to be here" debrief after every flight where the pilots acknowledge the mistakes they made in the air and offer their assessment for how they will correct their mistakes before their next flight. Foley says he loved this aspect of the Angels because rank, ego and performance were all put aside to focus on the team and getting things right.