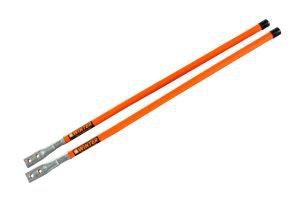 Winter Equipment announced Wednesday it will make its Winter premium Plow Markers available to municipal accounts, contractors and general distributors.
Winter Equipment says the premium plow markers, which have been in the municipal market for nearly eight years, have proven to live up to the motto, "Virtually Indestructible." With a core made from the same type of galvanized steel carbide cable used to make arresting wires on carrier decks, the plow markers feature a high-strength, non-rusting, pressed metal base for easy installation and a high-visibility orange, impact-resistant polymer cover, the company says.
"The reaction from the market to these has been amazing," says Ken Marvar, director of sales and marketing at Winter Equipment. "They've proven themselves to be durable, effective and long-lasting — we actually challenge our customers to break them."
The company says the plow markets are available in four lengths, 24 in., 30 in., 36 in., and 48 in. They ship complete with all hardware needed for quick installation.