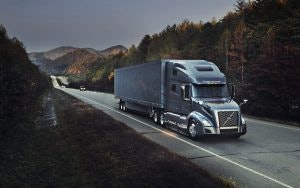 Volvo Trucks Monday announced a new fuel economy package, dubbed Xceed, available for the VNL 760 and VNL 860 for carriers operating dry van and refrigerated trailers. Volvo says the package can increase fuel economy by upwards of 10 percent over its Fuel Efficiency Plus spec and 3.5 percent over the Fuel Efficiency Advanced spec.
The Xceed package will be available for order beginning in January of 2019 for 2020 models, the company says.
The Xceed package offers dedicated wheelbase options to ensure the optimal trailer gap of around 44 in. for dry van or refrigerated trailer applications. Lightweight components like a horizontal exhaust system, a dedicated rear axle, limited fuel tank configurations, lightweight fifth wheels and aluminum chassis components help reduce the weight of the VNL models by up to 950 lb.
"The Xceed package bundles our most efficient features to help simplify the truck spec'ing process and ensure critical components of the fuel efficiency equation aren't overlooked," says Allison Athey, Volvo Trucks North America product marketing manager. "The Xceed packages for our VNL 760 and VNL 860 represent a systems approach, building on our learnings from the SuperTruck projects and engineering expertise, to ensure we're including important components that work together to help maximize efficiency."
Volvo also announced Monday it has partnered with Trimble Transportation Enterprise (formerly TMW Systems) to integrate Trimble's fleet management system software into Volvo vehicles. Trimble provides tools for routing and dispatch, asset maintenance, business intelligence, transportation management and fleet visibility.