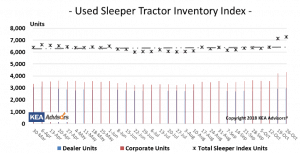 The used truck market took another step toward a volume surge last week, KEA Advisors reports in its most recent Used Truck Inventory Index.
KEA Advisors says its Used Truck Inventory Index is a measurement that approximates national inventory levels. The company started the measurement in March in response to customers wanting to gain a deeper understanding of the dealer network. KEA Advisors states that while the index does not represent all inventory available in the network, it is data pulled from a representative sample of corporate and dealer used truck lots weighted for market share.
In detailing its results, KEA Advisors says overall inventory levels have now climbed substantially in October after flattening in previous months.
KEA Advisors' John Whitnell says the climb isn't surprising. "We actually expected this to happen earlier in the year," he says, attributing the delay to the capacity issues in the OEM channel. "OEMs have thousands of partially built trucks they've been waiting to finish it looks like that's starting to happen."
One area where the index's uptick is most pronounced is the sleeper market. KEA Advisors says after the sleeper index bottomed out in July and August it has been climbing slowly for the last few months. The company states "the last three weeks of data indicate to us that the supply crunch for sleepers is likely on its way to [being] over."
The company says there are two main reasons for that:
The usual pattern for sleeper inventory is a small jump the first week of the month, followed by steps down in the following weeks. September values jumped around a bit, and the pattern officially "broke" in October. KEA Advisors has seen an increase in all three measurements it has taken this month.
The week of Oct. 19 saw a huge jump in inventory levels, followed by a larger than usual weekly jump in the company's Oct. 26 reading. The giant leap seen on Oct. 19 is one the company says it probably won't see very often, but another jump of similar magnitude at some point in November wouldn't be a surprise.
Additionally, Whitnell says the uptick in sleeper volume has been significant enough to move the overall index higher despite falling volume totals in the day cab and medium-duty spaces. He says now is the time for dealers to be cautious. It's rare for a dealer's business to be permanently damaged by used day cab or medium-duty inventory but having too many sleepers can be disastrous.
KEA Advisors notes three reasonable actions for various used truck dealer associates to ensure proper management of the rising sleeper market:
Used tuck managers: Re-establish discipline in your asset management and reconditioning policy (or if you don't have them written down, write them now).
Used truck managers: Evaluate your ground game. For the last six months all you needed was a truck and a bullhorn to move some iron, that's not going to fly moving forward. You are probably paying money for tools that should help you proactively move used trucks, are you getting the most out of them?
Business leaders: Get involved with your department. You might be making money on accident this year, you won't make money on accident in used trucks next year. Figure out what works in this department and make the investments to maximize that performance in the future.
"We think that this is going to continue through the fourth quarter and well into 2019," Whitnell says. "Inventories are starting to build aggressively and high inventories put downward pressure on pricing."