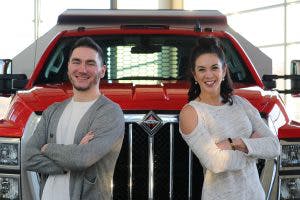 Due to the growth of Navistar's product line, including the recent addition of the International CV, Navistar corporate communications has restructured its team to provide an enhanced product focus, according to an announcement.
Additionally, after a successful tenure directing Navistar external communications, Lyndi McMillan will take a new role within the team as director, business communications. McMillan is responsible for the management of the company's corporate reputation, crisis management, financial communication and partner relationships.
"With the addition of the International CV, for the Class 4-5 market, Navistar has the industry's most comprehensive lineup," says David Giroux, Navistar chief communications officer. "The reorganization of the communication team was fueled by the critical importance of media relations to trade and well as business press alike as the company continues to grow and prosper."
New additions to the Navistar Media Relations team are:
Bre Whalen, manager of on-highway product communications — Whalen is new to Navistar and the trucking industry and joins the team eager to apply her eight years of media relations expertise to the field. Most recently, she managed all aspects of public relations for a portfolio of recognizable consumer franchise brands. Whalen is devoted to the oversight of all on-highway products in her new role. She can be contacted directly by email at Breana.Whalen@Navistar.com and phone at 331-332-3056.
Darwin Minnis, manager of vocational product and bus communications — Minnis has spent the past three years working in the trucking industry for Navistar's Internal Communications Team. With a background in journalism, he is excited to now share Navistar's story with a new audience. In his new role, Minnis is dedicated to all things medium duty, vocational and school bus. He can be contacted directly by email at Darwin.Minnis@Navistar.com and phone at 331-332-5243.
"The media are Navistar Corporate Communications Team's most important customer," says Giroux. "Bre and Darwin are the perfect duo to promote Navistar's product communications through this exciting time in the company's history."