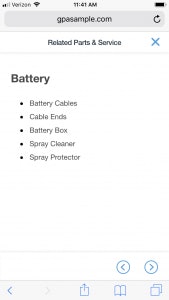 GPA Training has introduced "Suggestive Sales Tables," a free mobile app on upselling for commercial truck dealers.
The third training application introduced by GPA Training this year, the company says the app is designed to ensure new hires and seasoned sales associates understand the additional parts and services to suggest to accompany a part or service a customer is ordering. GPA says the app is designed to ensure sales associates know how to effectively frame a conversation to make an additional sale and how to always remember the parts to suggest to accompany bulk orders of certain parts.
"It's particularly useful for hires and staff new to the industry or the parts or service departments," says Ian Coburn, president of GPA Training. "Also, it's just the kind of technology Millennials and iGen want to see when they interview for jobs."
GPA Training says effectively selling related parts and services can amount to millions of dollars in additional revenue each year depending on the size of a dealership. The Suggestive Sales Tables application consists of both a truck and bus parts table, allows sales associates to quickly select the part being ordered or repaired from the table, which then lists all the related parts that should be discussed.
The company adds a free eLearning module, The Myth of Upselling, accompanies the app.
"The idea is staff takes the short eModule detailing how to effectively sell related parts, as well as why it is a must in their role, then utilizes the app as a tool in their daily routine, to create the habit of add-on selling," Coburn says.
Both the app and eModule may be found at www.gpatrain.com.