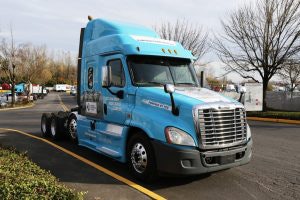 Portland Community College (PCC), longtime partner of McCoy Freightliner, has been announced as one of ten technical schools participating in the GetAhead "Trucks for Training" program from Daimler Trucks North America (DTNA).
DTNA introduced its GetAhead program earlier this decade to assist Freightliner dealers with technician recruiting. PCC, which has had a working relationship with McCoy Freightliner since 2010, signed up for the GetAhead program in 2015.
As participants in the "Trucks for Training" program, PCC has acquired a used Freightliner vehicle at a reduced price. DTNA, McCoy Freightliner and the school participated in a three-way cost split for the vehicle, providing a 2012 or newer Freightliner truck for the school to train with and learn today's modern technology. The total value of the truck was not allowed to exceed $45,000 and DTNA says the vehicle was inspected to make sure it is DOT compliant and was valued at the dealer's selling price.
The truck PCC is acquiring will be used for training and recruiting students to PCC's Diesel Service Technology program. In addition to this vehicle, McCoy Freightliner in 2010 donated a 2007 Freightliner Cascadia test truck to the PCC Diesel Service Technology program.