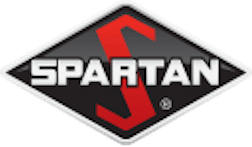 Spartan Motors Inc. has been selected by the Michigan Veterans Affairs Agency (MVAA) as a 2018 Bronze-Level, Veteran-Friendly Employer. The MVAA cites Spartan's ongoing commitment to equal opportunity employment practices, according to an announcement.
Spartan currently employs more than 230 veterans, who represent approximately 10 percent of its current workforce.
"On each Spartan campus, we are incredibly fortunate to have a large community of veteran employees and supporting service families working alongside us," says Daryl Adams, Spartan Motors president and CEO.
"We are committed to honoring those who serve and continue to serve as they bring considerable skill and dedication to our workforce. Being accredited by the MVAA as a Veteran-Friendly Employer is a milestone for Spartan, but it is only the beginning. We will continue to grow in the fields of military cultural competence and effective veteran recruiting," Adams says.
The MVAA is a central coordinating agency that provides support, care and advocacy to veterans and their families. As part of the recognition, Spartan Motors will be granted assistance from the MVAA to attract, hire, develop and retain veteran, Guard, and Reserve employees.