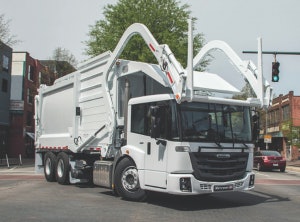 Coming it at No. 4 on the 2018 Successful Dealer list of top new truck news stories is the Freightliner EconicSD cab-over.
Freightliner Trucks introduced in April its EconicSD, a low-entry cab-over-engine waste collection truck for the North American market.
Freightliner says the cab and chassis are designed and manufactured in Woerth, Germany — Daimler's largest truck plant — and more than 125 modifications were made to optimize the truck for North American operations. Final assembly of the cab and chassis is completed at the Freightliner Custom Chassis Corporation manufacturing facility in Gaffney, S.C.
The EconicSD is equipped with the Detroit Diesel DD8 mid-range engine, with a rating of 350HP and 1050 lb.-ft. torque. The DD8 also features Detroit Connect Virtual Technician remote diagnostic service for maximized uptime and productivity, Freightliner says.
"The robust design and the technological achievements found with the DD8 engine make it well suited for the demands associated with waste collection," says Jeff Allen, senior vice president, operations and specialty vehicles, Daimler Trucks North America. "The Freightliner EconicSD and the DD8 make a durable and efficient combination."
To read the original release in its entirety, please CLICK HERE.
The 2018 Successful Dealer top five new truck news stories countdown will continue Wednesday, Dec. 26, with No. 3.