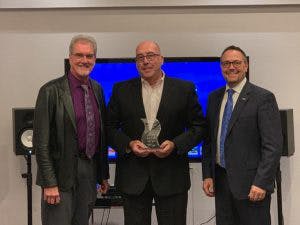 CIMC Intermodal Equipment has recognized Ed Gill, executive director of strategic accounts, as 2018 Salesperson of the Year.
Gill is a 34-year veteran of the chassis industry and has been with CIMC Intermodal Equipment since 2017.  He is known throughout the industry for his extensive experience in supply chain, transportation and logistics industries and has been instrumental in the growth of CIMC in 2018, according to an announcement.
"Ed demonstrates every day his unparalleled knowledge of chassis and the chassis industry. His enthusiasm and commitment to CIMC Intermodal Equipment's continued growth and status as a leader in the intermodal industry have earned him this honor," says Trevor Ash, vice president, sales and marketing.
"I am very honored to receive this award on behalf of our entire team," says Gill. "We set records this year in sales, but none of it would have been possible without innovative quality equipment, the support of the team and the continued trust and support of our valued customers."