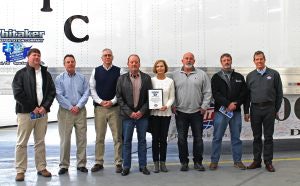 Utility Trailer Manufacturing Company announced Thursday that its Glade Spring, Va., manufacturing plant has achieved another milestone, building its 100,000th dry freight trailer, a 4000D-X Composite TBR.
The milestone trailer was presented to Whitaker Transportation of Spartanburg, S.C., at a celebration and press event Jan. 9 at the Glade Spring facility. Members of the Bennett and Whitaker families were in attendance.
"I want to congratulate each and every person at Glade Spring for this achievement," says Paul Bennett, chairman and CEO, Utility Trailer Manufacturing Co. "Day in and day out through the most challenging times, the people of Glade Spring have maintained their track record of excellence. Their character is exemplified in their generosity to the community and in their commitment to building trailers of the highest quality — this is why customers keep coming back and that is why the 4000D-X Composite continues to be the fastest selling trailer in our history."
"I want to thank Whitaker Transportation for their continued trust in Utility," adds Sam Cassell, Utility's Glade Spring plant manager. "For the past several years, they have been acquiring 100 to 150 dry vans a year. We are proud to be a part of their growing success and are delighted to make our 100,000th dry van theirs. I cannot express how proud I am of the Utility Trailer Glade Spring team.
"From the day we shoveled the first shovel of dirt in 2000 to today, this team has broken records in areas of Safety, Quality and Production. They have overcome many obstacles over the past 19 years that few businesses face in a lifetime. I only wish there was enough time and space to list all of the 700 plus members of this team who had a hand in building the 100,000th trailer. Each person was involved – from the person who purchased a bolt to the person who parked the trailer where it sits today. Thank you, each and every one."
Utility says the 4000D-X Composite TBR is equipped with Utility Side Skirts, Hendrickson suspension, Hendrickson Tire Inflation System, and Bendix Air Disc Brakes. Whitaker Transportation purchased the 4000D-X Composite TBR from C.R.T.S., Inc./Utility Trailer Sales of Virginia out of Raleigh, N.C.