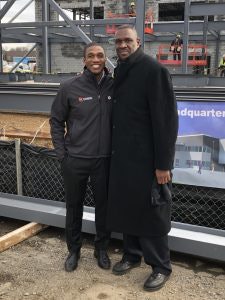 The Washington Business Journal (WBJ) has selected K. Neal Truck & Bus Center (K. Neal) as one of the honorees of its 2019 Family-Owned Business Award.
Korey & Stephen Neal are co-owner operators of K. Neal Truck & Bus Center, a commercial truck and bus dealership. The father-son duo has taken the transportation industry by storm. As one of two minority-owned trucking companies in the country, the Neal family is making its mark in the Washington metropolitan area and throughout the country. K. Neal provides parts, service, and vehicle sales in multiple locations throughout the DMV. The company was also awarded a GSA contract to provide buses to local state and federal agencies. To be considered for this award, nominees must demonstrate remarkable leadership, service to the community and established longevity in the business.
"We are honored that K. Neal is recognized by Washington Business Journal. I owe it to my father for his drive to be successful for his family. This company would not be where it is today without the strong foundation he carved out in his community," says Korey Neal, president. "I look forward to continuing to build upon the legacy in years to come."
CEO Stephen Neal gave the reigns of presidency over to his son effective Jan. 1, 2018. Together, the duo say they are building an empire that they hope will last for generations to come. The company is currently building a new state-of-the-art facility to better serve their customers.
The Neals say they understand the importance to not only serve the customer, but to set an example and to reinvest in the community. The new headquarters will remain in Prince George's County, Md.