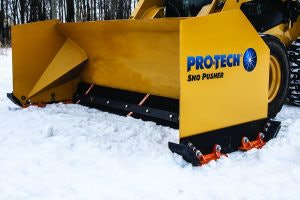 Winter Equipment announced Wednesday it now offers its patented WinterFlex rubber cutting edges for light-duty plows and the increasingly popular pusher box plows.
According to the company, the unique, reversible design of WinterFlex rubber cutting edges provides two positive wear edges for extending blade usage, which reduces material waste. The flat cutting edge design eliminates the need for the blade to "relax" for better performance.
WinterFlex rubber cutting edge material features three layers of styrene-butadiene rubber, vulcanized with two layers of high-performance synthetic fabric sheets for extended wear, strength and durability. The company says the material is available in 1.5 in. thick and either 8 in. or 10 in. wide. Rubber cutting edges are available in full length or sectional length options ranging from 5′ to 9′ for easy installation. The lengths can be punched or slotted, if required, to fit a variety of equipment and to provide simple adjustments, the company says.
"Our WinterFlex rubber cutting edges are definitely not the rubber blades of yesteryear," says Ken Marvar, vice president of sales, Winter Equipment. "Our patented technology ensures that these cutting edges last longer and eliminate wasted material for pusher box and light-duty plows."