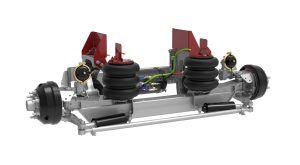 Link Manufacturing will unveil details of its newly updated and improved 20K self-steer suspension at next month's NTEA Work Truck Show in Indianapolis.
According to Link, the enhanced 20K axle incorporates proven technological and component upgrades already available in the company's lighter-capacity suspensions. With the formal introduction of its upgraded 20K axle, Link says it has achieved its goal of consolidating its self-steer suspension lineup, creating a highly uniform offering with industry-leading advantages.
Link's family of 8K, 10K, 13.5K and 20K self-steer auxiliary suspensions features its revolutionary Swift Mount technology, allowing installation to be completed in as little as two hours, compared to between six and eight hours for competing systems.
"We listened to the marketplace and responded by adding compelling features to our existing family of self-steer auxiliary suspensions, along with unparalleled installation and performance advantages," says Jim Huls, president, Link Manufacturing. "Their structural durability, corrosion resistance and standardization characteristics will impress bodybuilders, fleets and drivers alike."
Link says the 8K and 10K members of the auxiliary suspension family share the same hardware and are designed for more robust performance than competitors, and feature heavy-duty bearings. To support its broad range of applications, Link's 13.5K suspension with optional premium disc brake package will be available in April 2019. The company adds its family of auxiliary suspensions weighs in at approximately 6 percent less than comparable 8K, 10K, 13.5K and 20K self-steer axles. Link also integrates industry-standard wheel end and brake components into its suspensions, boosting uptime by streamlining maintenance processes and inventory overhead.
"At Link, our legacy of building reliable, durable and intelligently designed suspensions continues to attract broad industry attention and further market penetration," Huls says. "We are structured to meet growing demand, while remaining nimble and able to respond to customer orders with rapid shipping times and ultra-responsive customer support. We're proud of what we're building and what we've built."