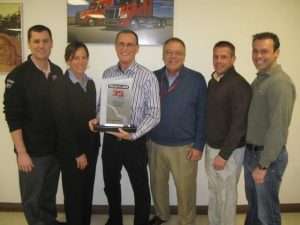 Founded in 1970, Truck Centers Inc. was one of the first heavy truck dealers to receive a Freightliner franchise in 1977. Since that time, revenues have swollen and the company has gone from 15 to more than 400 employees.
In 40-plus years, the dealership group has rolled with the punches, even throwing a few innovative ones themselves.
Sixty percent of the company's full-service facilities have been upgraded with energy-efficient T5 lighting, which replaced HID lights, and efforts are ongoing to enhance the remaining facilities.
Michelle Petroff, TCI Marketing Manager, says the company has also deployed an aggressive paperless strategy.
"Entire file cabinets of paper have been eliminated by now scanning supporting documents into our computer system and attaching information to customer's files," she says. Further, customers are encouraged to pay via ACH instead of paper checks and utilize e-mail for remittance information. These e-mails are automatically archived and easily retrieved, reducing the printing and storage of paper files.
The company's monthly parts and service specials are distributed electronically to more than 750 customers via email and the company website to reduce traditional paper copies.
"Corporate policies, procedures and updates to our employee handbook are available on an intranet website rather than in paper form," Petroff adds.
See the TCI nomination form here.
The company has also added capabilities that allow it to help customers in their green efforts. TCI is investigating converting shop workspace in one or more locations and invested in a state-of-the-art DPF cleaning machine.
The company is involved in numerous local charities and causes and TCI holds an annual scholarship competition that awards up to five academic scholarships to employees and their dependents.
TCI offers mentorship programs and helps encourage students pursuing trades and team members sit on the Advisory Board of Linn State Technical College.
In order to educate customers, the company frequently hosts ride and drive events to highlight new Freightliner and Western Star products available to our customers. Currently, alternative fuel solutions and a CNG truck are being demo'ed by multiple customers.
[envira-gallery id="27237″]
Petroff says TCI also hosts factory visits to Freightliner, Western Star and Detroit for customers to showcase product improvements and innovation first hand as they watch the manufacturing process.
Employee training and education is also readily available. In fact, among the TCI sales team, four individuals have won Freightliner's prestigious Leland James Sales Achievement Award. Ron Donze from TCI-Troy is the only person to receive this distinction every year since the award's inception.
"Our technicians undergo continuous training and certification processes from our two full-time trainers at our on-site training center," Petroff says.
The company markets itself via many outlets, including to some fairly specific customers. TCI maintains related portal sites for customer segments like its STLSeriousTrucks.com site for area Western Star customers.
The company also publishes a quarterly print magazine, "Driven," which is produced in-house and is made available at all TCI locations, select customer terminals and through a mailing list.