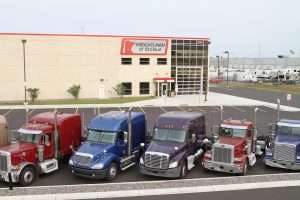 Each of the five finalists for our Second Annual Successful Dealer Award will be profiled in the coming weeks. The finalists are CIT Group, Inc.; Truck Centers, Inc.; Freightliner of St. Cloud; The Pete Store and Stoops Freightliner. The winner will be announced at the conclusion of the first day of the Commercial Vehicle Outlook Conference at the Great American Trucking Show in Dallas later this summer.
Founded in 1963, Freightliner of St. Cloud is the largest supplier to the transportation industry in Central Minnesota as well as the oldest continually-owned truck dealer in the area.
In the 50-plus years since its founding, the company has grown and changed with the times and developed an ever-growing list of accomplishments.
In order to be more environmentally friendly (and save a few bucks at the gas pump), the company initiated a company-wide GPS tracking system in its delivery fleet. That revealed many of the company's trucks were overlapping one another, wasting gas and employees' time.
"After about 2-3 weeks of tracking, the report showed many vehicles crossing each other," general manager Jon Pearson says of a change that cut more than 60 miles per day off the company's routes.
The company is looking further at existing routes, which Pearson says could save an additional 80 miles per day.
See Freightliner of St. Cloud's nomination form here.
In order to bring its facility up to a higher efficiency standard, Freightliner of St. Cloud moved its operation to a newer building and outfitted it with several high efficiency fixtures.
"For a truck dealership, (Leadership in Energy & Environmental Design certification) adds a lot to the cost," Pearson says. "It almost becomes impossible to get that certification."
Still, the company wanted to incorporate what they could from LEED standards and set out on a path to "carve out what made sense to the facility," Pearson adds.
That includes the use of motion lighting, an intense focus on recycling and the construction of runoff ponds on the property.
At the local level, the dealership has been active at St. Cloud Technical and Community College, which includes hefty donations to the program and helping place its graduates into jobs.
The company has donated more than $110,000 in scholarships and equipment to the school, including a new Detroit DD15 standalone engine valued at $40,000.
Freightliner of St. Cloud is just as dedicated to the training of its employees as it is to perspective employees. In recognition of his training in and modeling of the nine Lean principles of Daimler's Elite Support certification, company CFO Pat Miller was inducted into the CIC Summit Club of Daimler Trucks – one of only two individuals in North America inducted this year.
In an effort to educate customers about its products, the company works to give them a hands-on experience as much as possible. Freightliner of St. Cloud provided customers with a new Cascadia demo tractor, fully licensed for use, to showcase the truck's capabilities.
"Twenty-eight customers drove the truck for more than a week at no expense other than fuel," Pearson says. "We gave them a print out of their fuel economy, idle time…everything from their time with the truck."
That effort paid dividends, Pearson says, as many of the customers returned to place an order for a truck of their own.
That was an expensive endeavor, but it was more than worth it," he says.