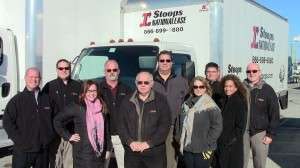 Each of the five finalists for our Second Annual Successful Dealer Award will be profiled in the coming weeks. The finalists are CIT Group, Inc.; Truck Centers, Inc.; Freightliner of St. Cloud; The Pete Store and Stoops Freightliner. The winner will be announced at the conclusion of the first day of the Commercial Vehicle Outlook Conference at the Great American Trucking Show in Dallas later this summer.
Stoops Freightliner – Quality Trailer has six locations in Indiana and Ohio and is the first-ever repeat nominee for our Successful Dealer Award, having been named a finalist last year.
The company, which was recently acquired by the McCoy Group, has built its business through innovation and embracing their place in the community.
"We decided that for our company to be good corporate citizens that we needed to help save the environment in any way we can," dealer principal Jeff Stoops says.
To save energy costs, the dealership group underwent a re-lamping process that replaced more than 200,000 square feet of lighting with higher efficiency options. Stoops says the project paid for itself after 3 years.
Stoops also initiated an aggressive recycling campaign.
"Recycling cut down 80 percent of what we shipped to landfills, which is pretty huge," he says. "Salvaging and scrapping metals have made enough money to cover the expenses to hire a person to manage it."
Stoops has also made a commitment to support the community and the causes dear to its employees.
"On some level, we contribute to every employee charity that is brought to us," Stoops says.
See Stoops Freightliner's nomination form here
The dealership helped purchase the Anderson (Ind.) Country Club, which to-date has been an unprofitable venture designed solely to keep it open.
"It wasn't about making money. We knew that going in," Stoops says. "We did it to support Anderson. You have to have a place for businessmen to take clients and to host events."
The company also established a Distinguished Professorship at Ball State College of Business.
In order to help educate customers about the company's products, Stoops hosts a semi-annual open house and ride and drive events, which highlight product and dealership updates.
The company offers annual truck and tractor demonstrator programs on new products and options for direct customer usage in their specific applications, and has six demo units in active use by customers.
In recognition of her training in and modeling of the nine Lean principles of Daimler's Elite Support certification, Stoops CIC Sarah Dazey was inducted into the CIC Summit Club of Daimler Trucks – one of only two individuals in North America inducted this year.
Aside from reaching customers directly, Stoops uses a mixture of print and digital campaigns to spread the word about the dealership and its services.
Last year, the company launched a new website specifically for its alternative fuel products.