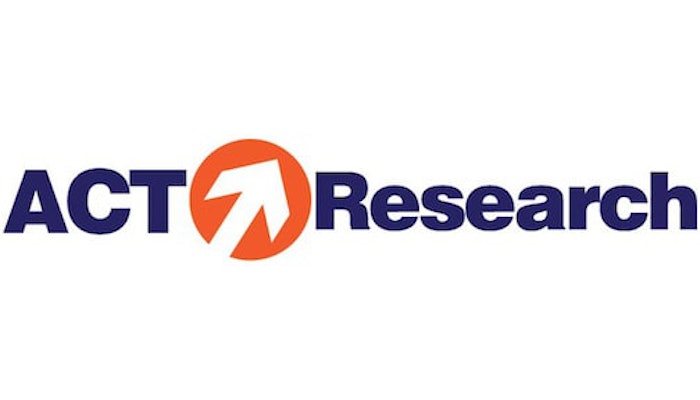 Current data and industry chatter seems to be pushing the new truck market toward a precipice in the coming months, ACT Research notes in its recent North American Commercial Vehicle Outlook report.
ACT Research President and Senior Analyst Kenny Vieth says the firm has targeted this year's third quarter as the point at which the industry was likely to see production rollover since the current demand up-cycle began in 2017. Vieth says prediction was largely derived from historical precedent, with historical peak-level build lasting between 13 and 15 months.
"For the current cycle, we date peak build rates to June 2018, so August represents the 15th month of peak-level production," he says.
As such, he says because carrier profitability and production peaks always lag the freight cycle, "capacity building always accelerates relative to freight growth at exactly the wrong time, every time."
He adds, "Large new inventories and deteriorating freight and rate conditions suggest erring on the side of caution remains the right call, and we are warning those in the industry to be prepared for down weeks starting as early as Q4."
And other industry indicators show the same concerning signs.
"Ultimately, the current situation of weak orders and strong builds is unsustainable," he says. "July orders conformed to traditional seasonal patterns, falling 80 percent year-over-year, while industry build posted its second strongest per-day rate since November of 2006. This order-to-build imbalance has caused backlogs to tumble since their October 2018 peak. Unfortunately, without a catalyst in sight, it is a trend that we expect to continue."
In the medium-duty space, Vieth says the story isn't much different.
"Medium-duty metrics remain in better balance, but there are signs of modest fraying, with orders below year-ago levels for a seventh consecutive month in July, the build rate accelerating, backlog falling, and inventories rising," he says. "While below the rate of build, retail sales continue strong."
Vieth says ACT Research has reduced its 2020 sales forecast in response.
Trade battle proving damaging as well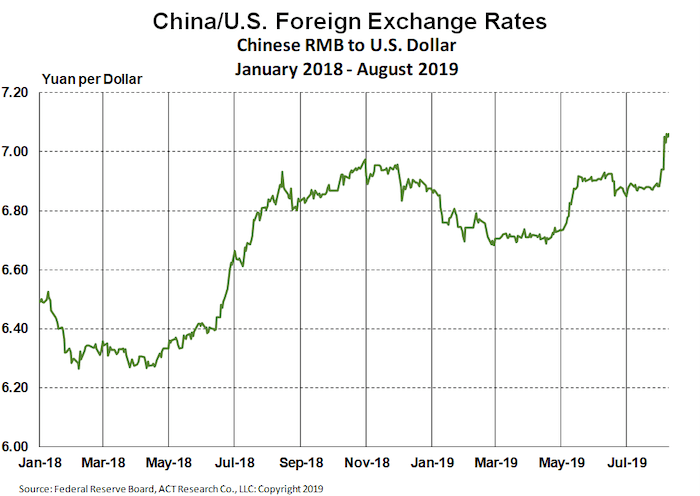 ACT Research also notes in its recent Outlook report of the continuing damage the trade war with China is having on the commercial vehicle space.
Says Vieth, "This month's chart, the U.S.$ to Chinese¥ (RMB), illustrates why trade wars are neither good, nor easy to win. As can be seen, after the U.S. fired the latest salvo in the trade war on Aug. 1, the Chinese responded with in-kind tariffs and a 3 percent currency devaluation, so far. Since the first 'shots' of the trade war were fired on March 1, 2018, the RMB has fallen 12 percent versus the U.S. dollar."
The result of this change, Vieth says, is tariffs imposed by the U.S. have been met with in-kind tariffs from China, and the Chinese government has allowed the yuan to devalue to offset the U.S. tariff impact and simultaneously make U.S. goods even more expensive in China.
"The bigger risk, especially to emerging economies is that in order to compete with China, they will have to devalue their currencies, making US goods more expensive in more countries and raising the risk of a deeper global downturn," Vieth says.