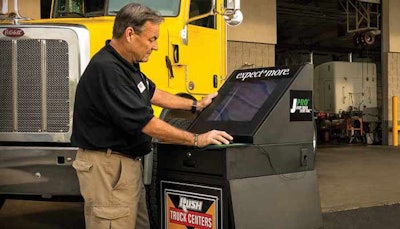 National Truck Protection Co. Inc., the parent company for National Truck Protection (NTP) and Premium 2000+ warranty brands, has chosen Rush Enterprises as an inaugural partner for its new Preferred Repair Network.
As a preferred partner, NTP and Premium 2000+ will recommend Rush Truck Centers across the U.S. to all customers who need repairs on their trucks.  NTP and Premium 2000+ says warranty customers will benefit from the peace of mind that Rush operates one of the highest quality commercial vehicle repair and parts' sales organizations in the trucking industry. Plus, NTP and Premium 2000+ warranty holders will receive special repair rates and a 90-day warranty from Rush on repairs they perform, the company says.
"Our Preferred Repair Network is the latest added-value offering from NTP and Premium 2000+ to take care of our customers as quickly and efficiently as possible," says Brian Krawczyk, Chief Claims Officer. "Rush Truck Centers has the national coverage and quality of service we are looking for to deliver a consistent and reliable repair experience for our customers."
Through its Rush Truck Centers network, Rush Enterprises operates the largest network of commercial vehicle dealerships in North America, with more than 100 dealership locations in 22 states. These vehicle centers, strategically located in high traffic areas on or near major highways throughout the United States, represent truck and bus manufacturers, including Peterbilt, International, Hino, Isuzu, Ford, Mitsubishi, IC Bus and Blue Bird. Each Rush Truck Center location in the Preferred Repair Network has technicians that are certified to work on all makes and models of Class 3-8 commercial vehicles.
National Truck Protection adds the partnership between NTP/Premium 2000+ and Rush Enterprises has launched shortly after Rush Enterprises announced RushCare Complete, a total service management support package that coordinates, monitors and expedites vehicle repairs and maintenance throughout the Rush Truck Centers' dealership network.
"We continue to invest in technologies, people and key business partners who share our mission to provide high levels of service to help keep owner operators on the road," says Victor Cummings, vice president, service operations, Rush Enterprises. "NTP and Premium 2000+ are also great warranty partners for our used truck sales operations, so we are proud to be a part of their Preferred Repair Network, too."
NTP and Premium 2000+ brands have nearly 60 years of combined experience and lead the industry in providing aftermarket commercial equipment warranties for Class 3-8 vehicles.
"Rush Truck Centers is one of our premier dealership groups for warranty sales," adds Wade Bontrager, CEO, National Truck Protection. "Signing Rush Truck Centers as a national partner in our Preferred Repair Network is an example of how two leading companies can work together to make a positive impact on a customer group that is important to both of us."