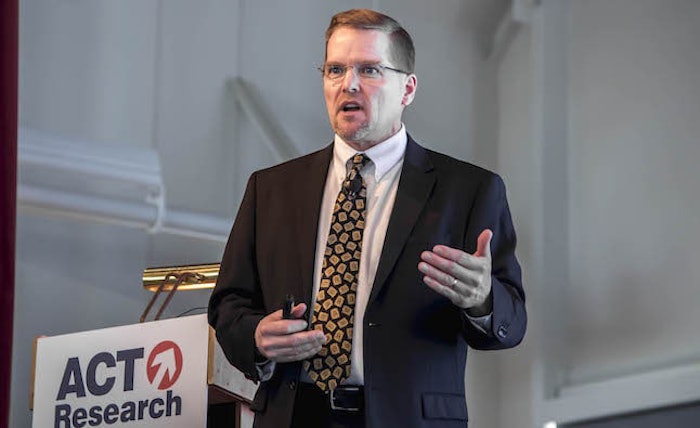 The average price of total used Class 8 trucks in August dipped 1 percent year over year, the first such decline since January 2018, according to ACT Research's latest release of the State of the Industry: U.S. Classes 3-8 Used Trucks. Month-over-month, prices fell 3 percent but, longer-term, remained 7 percent higher year to date.
Same-dealer sales rose 9 percent in August compared with July, but contracted 19 percent versus the first eight months of 2018, ACT reports. Used Class 8 average miles increased slightly month over month, up 2 percent, and were down 1 percent year to date, while average age rose 1 percent compared with July and 4 percent on a year-to-date basis.
"Dealers are reporting that used truck sales are not in the tank, but the prices for trucks have fallen and inventories are growing," says Steve Tam, ACT vice President. "This is not unexpected, as sales of new trucks have been barreling along, leading to many trade trucks coming to dealers.
"With lower truck values and growing inventories, many dealers have become much more conservative about what they will pay for trade-ins, while the rapid decrease in used truck values has caught some customers by surprise, as customers became used to receiving more for trucks in the last two years than what is normal," Tam says.
The report from ACT provides data on the average selling price, miles, and age based on a sample of industry data. In addition, the report provides the average selling price for top-selling Class 8 models for each of the major truck OEMs.