Though 2020 remains nearly two months away, more evidence is mounting that next year is likely to be a mild one for new equipment sales in the trucking industry.
Preliminary Class 8 new truck order totals for October released by FTR and ACT Research earlier this week showed the industry's seasonal order surge has begun but is trending well beyond recent years. Both companies pegged the Class 8 market at 22,100 orders last month — the best total of 2019 but only half of what that market recorded during the same month last year.
In releasing its data for October, FTR cited trade and political turmoil as two major factors driving the industry's current status of uncertainty. Don Ake, FTR vice president, Commercial Vehicles, says fleets ordering trucks today are "only ordering for their immediate needs" and are unwilling to speculate beyond the early months of 2020.
ACT Research presented a similar vibe of caution and uncertainty in releasing its order data and the week prior in its Commercial Vehicle Dealer Digest. For nearly two years ACT has been forecasting the third quarter of 2019 as the eventual conclusion to the industry's recent order and purchase boom and now that said conclusion has arrived, the company says little national economic or industry data points to another boom beginning any time soon.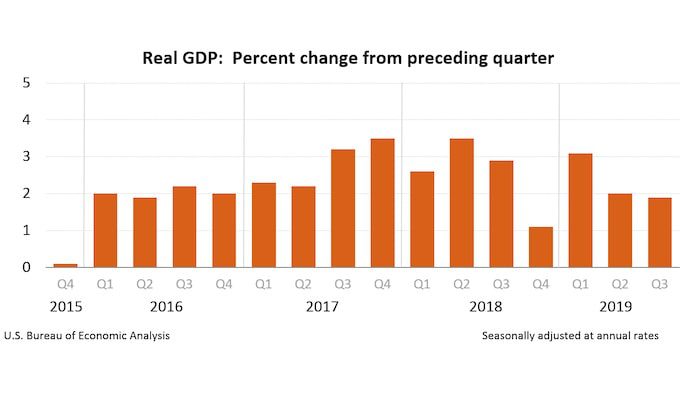 The United States' Bureau of Economic Analysis (BEA) announced last week U.S. Gross Domestic Product (GDP) fell for the second consecutive quarter in Q3, slipping below 2.0 percent (to 1.9 percent) for the first time since 2016. The BEA reported an increase of imports compared to exports as one factor in GDP's quarterly drop, but also noted decelerations in personal consumption expenditures and a slight increase in personal savings rates for the quarter — both of which are early warning signs that can signal economic contraction. Coupled with a still hesitant and feeble manufacturing growth sector, it seems unlikely any of triggers necessary to drive economic growth in a manner that will require an influx of vehicle purchases will be pulled in the coming months.
Regarding manufacturing, specifically, ACT Research Vice President Steve Tam notes the forward-looking Manufacturers' New Orders, Nondefense Capital Goods index shows "durable goods orders have stagnated in 2019 and have been negative year-over-year for the past two months. The lack of traction on the front side does not speak well for a near-term recovery in industrial activity."
The Institute for Supply Management (ISM) confirmed that assessment last week in releasing its latest Manufacturing ISM Report on Business for October. In the report, ISM states manufacturing sentiment remains more cautious than optimistic. "Global trade remains the most significant cross-industry issue. Food, beverage and tobacco products remains the strongest industry sector and transportation equipment the weakest sector," says Timothy Fiore, chair, ISM Manufacturing Business Survey Committee.
Though ISM and other firms are yet to predict a downturn or recession for 2020, many experts are beginning to acknowledge the economy's record growth streak of 126 months seems likely to come to an end in the near future. There are simply too many negative economic indicators in play to keep the train running for much longer.
Even minor cases of optimism are housed within larger concerns.
A recent fleet sentiment survey by CK Commercial Vehicle Research discovered many fleets still have modest equipment purchase plans for 2020 but also acknowledge many factors could change their order plans, positively or negatively, entering the coming year. After ordering 504,000 Class 8 units from November 2017 to October 2018, the North American fleet community ordered just 192,000 Class 8 trucks over the past 12 months.
"Freight growth is flat, as the industrial sector slows and manufacturing struggles a bit. Orders are expected to stay in this range for a few months until there is more confidence in the economy and less turbulence in the trade war and political arena," Ake says.