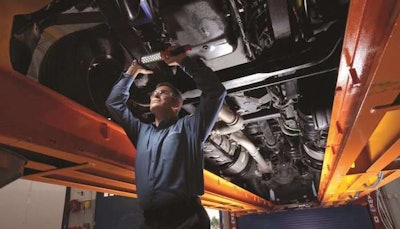 The financial impact of the COVID-19 coronavirus pandemic on dealer parts and service volumes created a substantial deterioration of sales in March but appears to be leveling out thus far in April, KEA Advisors announced in its weekly volume indicators report Monday.
According to the firm's weekly survey of 81 truck dealers, the total number of repair orders (RO) among survey responders held steady between 5,650 and 5,950 units during the first ten weeks of 2020. But it was at the close of that tenth full week that COVID-19 was declared a global pandemic, and ROs totals have fallen precipitously in the seven weeks since.
KEA Advisors says the total number of ROs counted its survey responders fell from 5,650 in Week 10 to 5,190 by Week 12 and 4,880 in week 14. The company says data from the previous three weeks (Weeks 15-17) have hovered slightly below that 4,880 number but could ultimately track higher once orders are closed and finalized.
KEA Advisors survey indicates average labor sales per RO maintained consistency slightly longer than total RO numbers, but also have started to stumble in recent weeks.
Average labor repair sales hit a 2020 high in Week 11 at $652.90 but fell to $539.34 by Week 14. Week 15 through 17 data is even lower — with totals below $400 in each week — but the company anticipates those totals will eventually finish higher once ROs opened during those weeks are closed and counted.
KEA Advisors says the data tells a similar story in the parts space, where 79 dealer responders to the company's survey also indicate invoice counts and average total sales per invoice are beginning to trend down. Regarding invoices, KEA's data shows Weeks 5 and 9 (which closed January and February business) as the strongest weeks of the year at more than 35,200 and 35,600 invoices, respectively. Other weeks between New Year's Day and early March hovered around 33,000 units but since the pandemic was declared not a single week has recorded more than 32,700 orders. The last six weeks have all been 32,000 orders or fewer.
Average total sales per invoice also experienced increases at the close of January and February — Week 5 is the year's high-water mark at $344.59 — but plummeted to just $149.97 in Week 16. The company says that number should rise once all invoices are closed but is still likely to be below the year's average.
In speaking with its surveyed dealers, KEA Advisors says regional and customer duty cycles appear to be having some impact on volumes in both channels, with local and vocational customers causing dealers the most damage, while staffing decisions and cohesive business leadership also are having an impact on how dealers are weathering the storm
"Without transparency and direction from leadership, dealerships performance can slip, leading to negative cultural impacts and decreased productivity from your team," the company says.