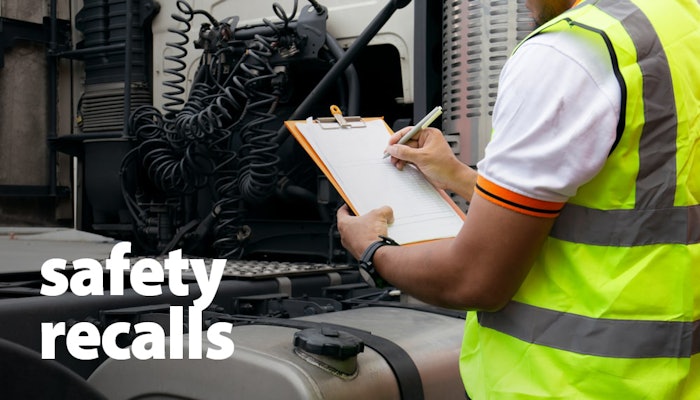 The following safety recalls were issued Monday by the National Highway Traffic Safety Administration (NHTSA):
Altec Industries is recalling certain 2018-2020 AA55, AM50 and A77 Aerial Devices and D2, D3, D4, DH-B and DH-H Digger Derricks. The bolts that secure the pedestal to the turntable (with head marking 5185) may fail. If the fasteners break, the pedestal may separate from turntable, increasing the risk of injury or death. NHTSA says potentially 157 vehicles are affected by this recall.
Daimler Trucks North America (DTNA) is recalling certain 2019-2021 Western Star 4700 and 5700 vehicles. A particular wire in the ground harness may be undersized, possibly resulting in a melted connector in the ground circuit harness. If the connector becomes damaged, under certain circumstances, the engine may stall without the ability to restart. An engine stall may increase the risk of a crash. NHTSA says potentially 2,987 vehicles are affected by this recall.
Navistar is recalling certain 2019-2020 International CV vehicles. Due to a software error, the Antilock Braking System (ABS) malfunction indicator does not light when there is a loss of communication between the electronic brake control module and the body control module. As such, these vehicles fail to comply with Federal Motor Vehicle Safety Standard (FMVSS) number 105, "Hydraulic and Electric Brake Systems." If the malfunction warning does not light, the driver may not be unaware of an inoperative ABS or automatic traction control system, increasing the risk of a crash. NHTSA says potentially 2,805 vehicles are affected by this recall.