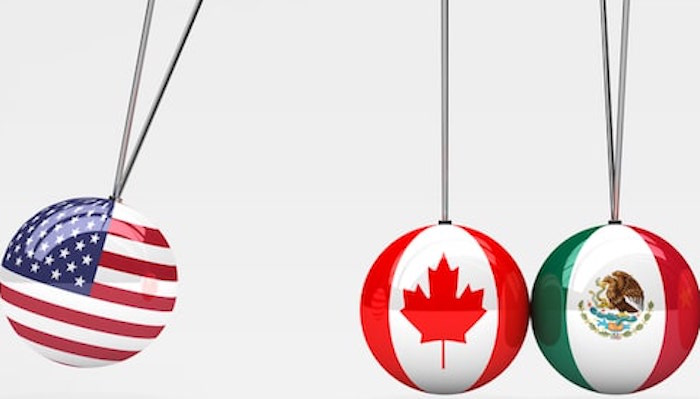 The U.S.-Mexico-Canada Agreement (USMCA), an update of the  North American Free Trade Agreement established in 1994, has taken effect today, July 1, 2020.
Although the USMCA has gone into effect, the heavy vehicle industry has a seven-year transition period to comply, Ann Wilson, senior vice president of government relations, Motor & Equipment Manufacturers Association (MEMA), told Trucks, Parts, Service in May. (MEMA, the parent organization of the Heavy Duty Manufacturers Association, had proposed a start date of Jan. 1, 2021.)
Wilson pointed to two elements of USMCA that weren't in the previous agreement, a steel and aluminum content requirement and a labor value minimum.
Vehicle manufacturers are required to buy 70 percent of their steel and aluminum from North America and a specific amount of the value of the vehicle must be made with labor earning at least $16 an hour, she says.
While the wage requirement shouldn't be an issue in the U.S. for vehicle manufacturers, which can be met themselves or through their supply base, Wilson says companies will have to be able to demonstrate their steel and aluminum compliance "and it may indeed end up raising the cost of a vehicle in order to meet those requirements."
MEMA today issued a statement regarding the USMCA, stating the pact will  strengthen North American supply chains and promote U.S. job creation and economic growth.
"MEMA was one of the earliest supporters of the UMSCA, as we understood it would enhance the regional economy in our sector. MEMA is grateful for the transparent process with which [the Office of the United States Trade Representative] has engaged stakeholders on the new automotive rules of origin issues. However, these changes will not be without challenges for our members to implement. As implementation moves forward, MEMA intends to stay active and address these challenges," according to the statement.