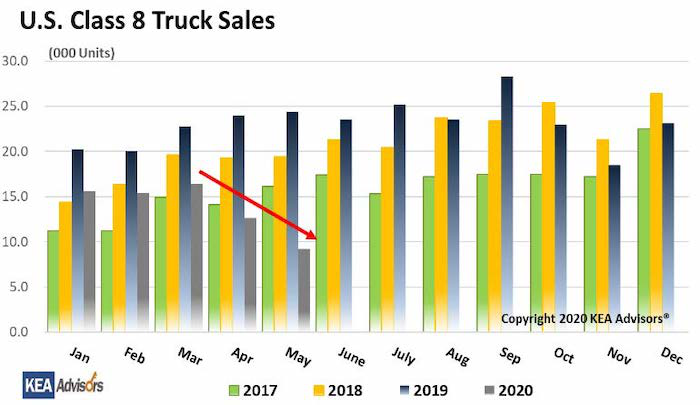 KEA Advisors has released a 2020 used truck market update report for the first half of the year.
In it, the company looks back at its initial 2020 market forecast to determine how the market has performed to expectations — and uncovers how much the coronavirus has altered the market.
One area where the company says the used market should see positive change in the second half of the year is supply.
"The supply of used trucks in any given year drives pricing levels one direction or the other; 2020 will amplify this important point," the company states. "Our 2020 forecast predicted the supply of inventory would be approximately equal to demand for the year. COVID-19 changed all of that."
KEA Advisors states OEMs shutting down production lines in March and April due to the virus has choked off the supply of used truck trade-ins. This sudden change has resulted in auction prices and retail asking prices stabilizing during the second quarter and could lead to rising used truck prices very soon as supply continues to contract.
The company also notes used truck demand remains remarkably stable.
"Do not misinterpret our point here," the company states. "Significant variation occurs every year in both overall macro-economic metrics and trucking industry performance measures. But demand fluctuations for used trucks require either catastrophic economic dislocation or a dramatic reduction in lending capacity. In other words, it takes more than a COVID-19 pandemic to disrupt demand."
The company says it evaluated used truck sales of its 15 largest clients over the last four months and year over year sales volume was nearly unchanged.
Finally, KEA Advisors points to the importance of inventory levels as a component of used truck pricing. The company references pricing elasticity, which is a measure that economists developed to quantify the strength of the relationship between two variables, such as supply and used truck prices.
Why isn't the relationship between supply and pricing more direct, the company asks. "Because of inventory! Over the last 18 months industry inventory levels have consistently escalated to what KEA Advisors believes are record levels," the company states. "This high level of industry inventory has created a 'buffer' that has prevented prices from rising. But stable demand and restricted supply are now combining to drive inventory levels lower."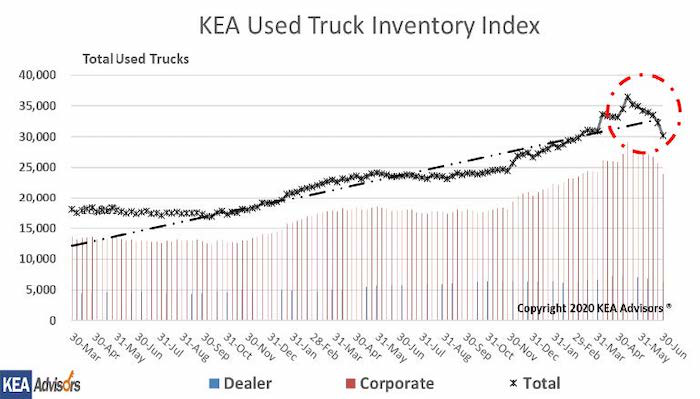 Referring to the chart at right, the company says as industry inventory continues to decline at an accelerated rate, "increasing prices are inevitable."
The company closes its report with guidance for the dealer channel, stating the market has crossed a threshold with the stage set for a pricing recovery in the second half of the year.
"In general, stop lowering your prices on your used truck inventory," the company says. "If you have made a catastrophic mistake you will still need to address this issue. Or if you have inventory with fatal components you will need to address those units through pricing actions. For the rest of your inventory the market will likely come back to you. Especially in the fourth quarter. Be patient."