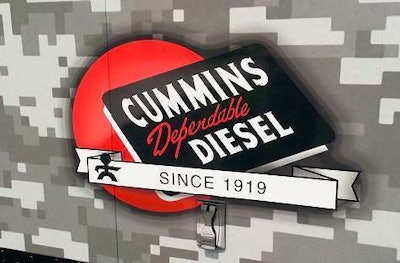 Cummins reported its second quarter earnings Wednesday.
The company says revenues during the quarter were $3.9 billion, a 38 percent decrease from the same quarter in 2019. The company says COVID-19 related customer shutdowns and weak economic activity led to lower demand in most end markets and regions except China. Sales in North America declined by 48 percent while international revenues decreased 22 percent. Currency negatively impacted revenues by 2 percent primarily due to a stronger U.S. dollar.
Earnings before interest, taxes, depreciation and amortization (EBITDA) in the second quarter were $549 million (14.3 percent of sales), compared to $1.1 billion (17.0 percent of sales) a year ago.
"I want to thank our employees all over the globe for their dedication to our company and to our customers," says Tom Linebarger, CEO. "They continue to work safely and effectively through an incredibly challenging period, with unprecedented disruptions to global demand and supply, to their work processes, and to their daily lives. In the face of the most severe decline in quarterly sales in our history, we delivered solid profitability while meeting commitments to our customers who provide products critical to the functioning of the global economy."
Cummins says it expects third quarter revenues to improve from second quarter levels, however, there remains significant uncertainty around how COVID-19 will impact end market demand as well as customer and supplier operations. Due to this uncertainty, the company states it is not providing full year revenue or profitability guidance for 2020.
Says Linebarger, "While customer demand did improve in some regions as the quarter progressed, significant uncertainty around the pace of recovery in our markets remains, requiring a continued strong focus on managing expenses and cash flow. Our strong financial position will enable us to continue to prioritize our investments in technology and new products including advanced diesel engines, battery electric powertrains, fuel cells, and hydrogen electrolyzers that will help drive future profitable growth."
On a per-segment basis, Cummins says its engine business had sales of $1.4 in the second quarter, down 47 percent from last year. Engine on-highway revenues decreased 55 percent and off-highway revenues declined 15 percent. In the components segment, sales were $1.2 billion, down 38 percent. Revenues in North America decreased by 55 percent and international sales declined by 9 percent due to lower demand in Europe, India, and Brazil, the company says.