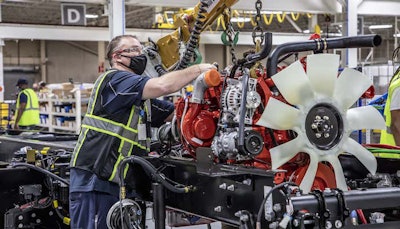 Mack Trucks' all-new Mack MD Series of medium-duty vehicles is now in full production at Mack's new Roanoke Valley Operations (RVO) facility in the Roanoke Valley, Va. New York City Department of Sanitation (DSNY) officials have taken possession of Mack' LR Electric demonstration model to put it through real-world trials.
"Mack Trucks is very proud of the dedication of the RVO team, who worked tirelessly to begin full production amidst the challenges of COVID-19," says Martin Weissburg, president, Mack Trucks. "Mack is 120 years old this year, and as we have done all along, we continue to solidify our leadership in the industry by offering customers the right products with the right features."
The Mack MD6, a Class 6 model, and the MD7, a Class 7 model, began rolling off the line Sept. 1 in preparation for delivery to dealers and customers.
Learn how to move your used trucks faster
With unsold used inventory depreciating at a rate of more than 2% monthly, efficient inventory turnover is a must for dealers. Download this eBook, "Sold! Best Practices for Moving Used Trucks," to access proven strategies for selling used trucks faster.
"Mack Trucks is pleased that our new MD Series is being delivered to customers as we speak, and the feedback has been very positive," says Jonathan Randall, Mack Trucks senior vice president of North American sales and commercial operations. "Fulfilling our promise to deliver high-quality, medium-duty trucks reinforces our commitment to supply product offerings that meet a variety of customer needs across the full commercial truck range."
Mack announced Jan. 30, 2020 that it invested $13 million to establish RVO. The investment included equipment, tooling and enhancements to the 280,000 sq. ft. of the facility dedicated to producing Mack medium-duty trucks. The project will result in the creation of 250 jobs, which will be filled by the end of February 2021.
"Every member of the RVO team takes great pride in working at the site where Mack medium-duty vehicles are built," says Antonio Servidoni, Mack vice president, medium-duty operations. "We are already building Mack MD Series trucks to the same high-quality standards as our heavy-duty product line."
The Mack MD Series is an all-new model range built specifically for medium-duty applications. With the introduction of the MD6, which has a Gross Vehicle Weight Rating (GVWR) of 25,995 lb., and the MD7, which has a GVWR of 33,000 lb., Mack now offers a complete lineup of Class 6 to Class 8 vehicles. Both models are exempt from the 12 percent Federal Excise Tax (FET), the company says.
The MD6 and MD7 models meet the needs of medium-duty trucking applications requiring dry van/refrigerated, stake/flatbed, dump and tank truck vocations. The MD6 model does not require a Commercial Driver's License (CDL) to operate for non-hazardous payloads.
Available in 4×2 configurations, the MD6 and MD7 models feature a sharp wheel cut for enhanced maneuverability for tough urban settings. The MD Series cab design features a bumper-to-back-of-cab (BBC) measurement of 103 in. Mack mimicked the bold styling of the cab, hood and grille of the Mack Anthem, Mack's highway model. The Mack MD Series will be supported by Mack's dealer network.
In-service trial for LR Electric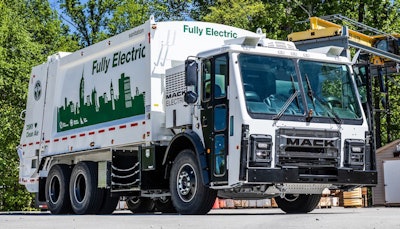 Mack Trucks has turned over the keys to its highly anticipated Mack LR Electric demonstration model to New York City Department of Sanitation (DSNY) officials, who will put it through rigorous, real-world trials, the company says.
"Mack Trucks is proud to deliver to DSNY their first fully electric refuse vehicle, the Mack LR Electric, so it can begin its in-service trial in their demanding application," says Randall. "The LR Electric is equipped with Mack's integrated electric powertrain to help DSNY achieve their greenhouse gas (GHG) goals, while also offering a significantly quieter propulsion system."
The announcement was made during Climate Week NYC 2020, the biggest climate summit taking place this year and coordinated through the United Nations and New York City.
DSNY is the world's largest municipal sanitation department, with roughly 12,000 tons of refuse and recyclables collected each day by more than 6,000 vehicles. Their collection fleet is comprised predominantly of Mack vehicles.
DSNY will base the Mack LR Electric demonstration model at its Brooklyn North 1 garage and conduct an in-service trial on local collection routes, evaluating operating range, payload capacity, regenerative braking and overall functionality of the electric refuse vehicle in their operations.
"We're pleased to begin in-service testing of the first Mack LR Electric within our fleet," says Rocco DiRico, DSNY deputy commissioner. "Electric trucks will be a key component to helping New York City meet its ambitious goal of reducing GHG emissions by 80 percent by the year 2035."
Mack announced earlier this month its plans to commercialize the LR Electric model in 2021, enabling customers to collect refuse in a more environmentally friendly way.
Featuring a copper-colored Bulldog hood ornament to represent the fully electric drivetrain, DSNY's Mack LR Electric demonstrator features two 167-kW motors, offering a combined 536 peak hp and 4,051 lb.-ft. of torque available from zero RPM. The vehicle is equipped with a two-speed Mack Powershift transmission and Mack proprietary S522R 52,000-lb. rear axles. The truck features four NMC lithium-ion batteries that are charged via a 150kW, SAE J1772-compliant charging system. All accessories on the Mack LR Electric model, including the hydraulic system for the Heil Durapack 5000 refuse body, are electrically driven through 12V, 24V and 600V circuits.
Mack unveiled the DSNY LR Electric demonstrator in May 2019 and demonstrated the vehicle to DSNY officials in January 2020 at the Mack Customer Center in Allentown, Pa.