Ford Motor Company on Thursday released its 2022 E-Transit van. Ford says the new van is a smart workhorse that will offer customers enhanced productivity enabled by its fully electric powertrain, software solutions, services and Pro Power Onboard options.
"Ford is North America and Europe's commercial truck and van leader, so the transition of fleet vehicles to zero emissions, especially for the fast-growing last-mile delivery segment, is critical to achieve our carbon neutrality goal by 2050," says Jim Farley, Ford president and CEO. "Ford is ready to lead the charge, starting with the all-electric Transit and all-electric F-150 on the way. This is good for the planet and a huge advantage for customers to help lower their operating costs and provide connected fleet management technologies that will help their businesses."
According to the company, the all-new E-Transit is backed by Ford's network of 1,800-plus global commercial vehicle dealers, including 645 commercial vehicle centers across the U.S. — about 90 percent of which are electric vehicle-certified — for easy sales and service.
E-Transit offers the same interior cargo dimensions and standard mounting points for continued integration with hundreds of upfitters and vehicle modifiers worldwide who provide compatible racks, bins and accessories on gas-powered Transit.
The majority of U.S. Transit vehicles sold last year were upfitted, and Ford says it continues to provide the same upfit financing support for van customers, including those who purchase or lease. With 13 upfitters located conveniently within 30 miles of the assembly plant — the company will assemble E-Transit for North American customers at Kansas City Assembly Plant in Claycomo, Mo. — Ford says customers get fast delivery to the upfitter of their choice right when they order their van, removing the need for an upfit after delivery and helping them get on the road quickly.
"We are doubling down on software and digital services to help our fleet customers grow and more efficiently run their businesses," says Farley.
With a usable battery capacity of 67 kilowatt-hours, Ford says E-Transit will deliver an estimated range of 126 miles in the low-roof cargo van variant. The E-Transit has a starting MSRP under $45,000 for U.S. fleet customers – and comes backed with an eight-year, 100,000-mile electric vehicle component warranty.
"This makes E-Transit ideal for commercial customers who know their drive routes and often work in urban environments," says Ted Cannis, Ford North America general manager, commercial business. "Affordability is key, and our customers buy only what they need to get the job done. E-Transit provides ample range at a price that makes the transition to electric easy. And Ford is just getting started."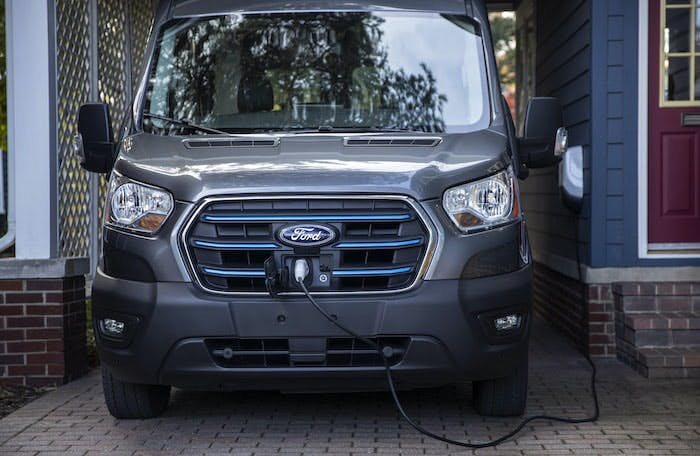 Ford adds it also will offer a variety of charging solutions to fit fleet and driver needs, whether at home, at a place of business or on the road. E-Transit comes with access to North America's largest public charging network — providing drivers with seamless public payment capability and providing fleet managers with central account and billing management.
E-Transit features both AC and DC fast charging, coming standard with a Ford Mobile Charger that can plug into a normal 120-volt outlet for slow and steady charging or into a 240-volt outlet for faster charging. And Ford says those seeking the fastest home charging solution can purchase the Ford Connected Charge Station, which can fully charge E-Transit in eight hours.
On a 115-plus-kilowatt DC fast charger, E-Transit cargo van low-roof models can achieve approximately 30 miles of range in 10 minutes and approximately 45 miles of range in 15 minutes. When plugged into a 240-volt outlet, E-Transit cargo van low-roof models achieve approximately 10 miles per charging hour using the Ford Mobile Charger. Employing a Ford Connected Charge Station brings the number up to approximately 15 miles per charging hour, the company adds.
Ford enhances fleet management tools as part of E-Transit rollout
Ford also announced Thursday it is expanding its offering of fleet management tools to provide electric-vehicle data, charging reports and web-based pre-conditioning, plus new features that can help secure vehicles and help enhance driver performance.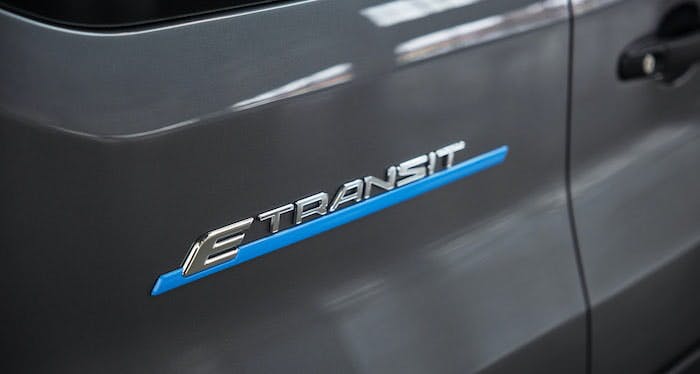 With new fleet-wide energy monitoring and vehicle management tools from Ford Commercial Solutions, available through easy-to-use app and web-based interfaces, Ford is helping North American commercial fleets and businesses make a seamless transition to electric vehicles. These features will be available to E-Transit customers when the vehicle starts launching next fall, the company says.
"Knowledge is power – and Ford is empowering commercial businesses by giving them the information they need to get the most out of their electric vehicles," says Julius Marchwicki, chief operating officer, Ford Commercial Solutions. "Our new connected services and telematics-based offerings from Ford don't just help fleets optimize the performance of their fleet and help improve the performance of their drivers – they help ensure businesses can stay focused on providing great service to their customers."
With the new electric vehicle tools, Ford states fleet operators can monitor the performance of individual vans, manage energy usage and gain key insights into their performance. Using electric vehicle-specific data such as kWh consumption, charge speed, distance to empty and more, managers can better understand how they're operating in real-time in order to help optimize running costs and uptime.
The new tools also enable remote cabin pre-conditioning, so fleet operators can optimize cabin temperatures while E-Transit is plugged in to optimize battery efficiency. Alerts notify managers if a vehicle isn't plugged in when it's scheduled to be, while other tools let them remotely manage transactions for public charging and receive reporting to support reimbursement for employees who charge at home, the company says.
Additionally, along with electric vehicle-specific services, Ford Commercial Solutions is expanding its fleet management offerings to help North American commercial vehicle customers better manage and optimize the efficiency of their fleets.
Helping to improve the performance of their drivers is top of mind for fleet operators, which is why Ford is introducing in-vehicle, real-time driver coaching through SYNC 4 voice assistant. Ford says any time a driver exceeds a speed limit, rapidly accelerates, brakes harshly, leaves the engine running while parked or fails to fasten a seatbelt, they will receive an in-car audio message asking them to correct their behavior.
Ford Telematics also will enable customers to confidently secure and remotely monitor their vehicles after hours. New alerts will notify fleet operators if a vehicle is potentially being stolen, if it's used without authorization, if it's being towed or even if it has been damaged while parked. If any of these events occur, Ford says GPS tracking also allows managers to see the location of their vehicles even when they are turned off.
Finally, Ford is offering integrated Driver ID, giving managers an easy way to associate specific drivers with vehicles. By allowing drivers to enter a driver-specific code into the SYNC screen, fleet managers get an accurate record of which driver is using which vehicle. By associating a driver with a specific vehicle, managers could analyze performance metrics to potentially identify new coaching opportunities to help manage driver performance, the company says.
Beyond these new telematics-based services, Ford Commercial Solutions offers Ford Data Services, which provides manufacturer-grade data from vehicles for integration with proprietary software or existing authorized telematics providers, without the need for third-party plug-in devices.