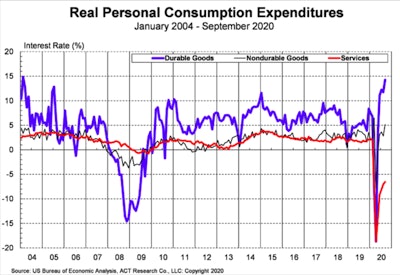 In the release of its Commercial Vehicle Dealer Digest, ACT Research reports that even before the pandemic plunge in Q2, there was never serious doubt that the demand for commercial vehicles would rise in 2021.
ACT Research President and Senior Analyst Kenny Vieth says a rise in demand has always been expected, but the challenge for forecasters such as ACT has been determining the speed in which demand would rise.
"The speed of the demand inflection has proven to be a particularly challenging answer," he says "Demand is sufficiently strong at present that we are turning to historical precedent as a guide for the speed at which the heavy-duty OEMs and suppliers can respond to the demand rally. On top of that, there are two countervailing considerations that we believe could have a direct bearing on the trajectory of the ramp."
He says the first is the challenge of increasing manufacturing employment during a pandemic, with added protocols and complexity needed to keep workers safe and socially distanced. The second is the time it takes for the industry to shift to materially higher build rates following the start of robust orders. "In most cycles, the lag is typically around six months," he says.
There are also questions that remain on which segments of the market will receive the biggest benefits to increases in demand.
"While capacity utilization and productivity are concepts normally reserved for the Class 8 market," he says, "medium-duty vehicle operations are clearly feeling the impact of the services-to-goods substitution evidenced by consumer expenditures, and with freight rates surging and profitability poised to follow, orders turned sharply higher starting in September for van trailers, Class 8 tractors, and Classes 5-8 vocational trucks. September saw Class 8 orders surge to a two-year high, followed by even stronger orders in October."