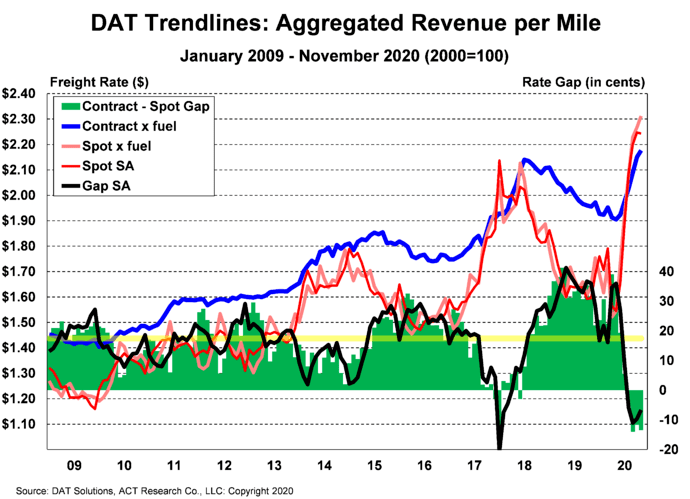 Freight rates again trended positively in November, helping to solidify new equipment purchasing and bring more optimism into the equipment sales space entering 2021, ACT Research reported this week.
In the company's Commercial Vehicle Dealer Digest, the company surmised that the current strength of new commercial vehicle demand can be summed up by the strength in freight rates.
"Despite, or arguably because of, the pandemic-related pause in Q2, commercial vehicle demand is heading into 2021 with a bang, resulting from consumer and business spending substitution from services to goods, inventory rebuilding, and the sidelining of drivers, just to mention a few," says ACT Research President and Senior Analyst Kenny Vieth. "An ACT-favorite axiom is 'fleets buy equipment when they make money,' and as illustrated in ACT's aggregation of DAT's rate data, truckers made money in 2020 and are going to make a lot of money in 2021."
Vieth elaborated to say that from August through November, rates in the spot freight market have been at record levels and have continued that rise thus far in December. For only the second time in history, spot and contract rates are inverted, Vieth says with contract rates following spot rates by around five months. "This suggests accelerating fleet profitability into 2021," he says.
Truck tonnage also is on the rise. The American Trucking Associations (ATA) announced Tuesday its advanced seasonally adjusted (SA) For-Hire Truck Tonnage Index increased 3.7 percent in November after falling 5 percent in October. In November, the index equaled 112.2 (2015=100) compared with 108.3 in October, ATA says.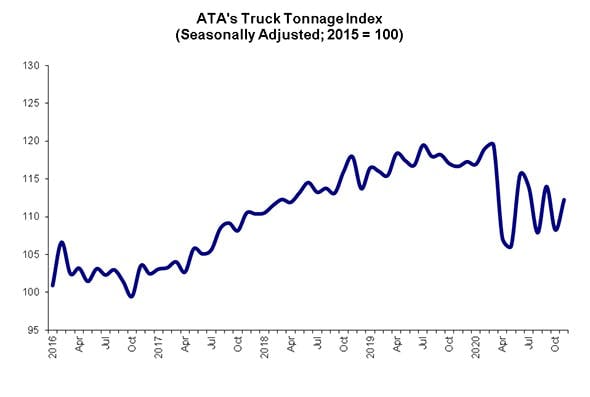 "The 2020 seesaw pattern continued in November as typical seasonality is not holding this year," notes ATA Chief Economist Bob Costello. "Robust retail freight, helped by consumer spending, especially e-commerce, and very lean inventories helped truck tonnage last month. Strong single-family housing starts are also aiding freight tonnage, but lackluster restaurant, manufacturing and energy sectors remain a drag. I expect these softer industries to benefit from widespread COVID-19 vaccinations in 2021."
There are other positives for freight in 2021 as well, says Vieth.
"A strong freight pipeline and structural and regulatory challenges surrounding driver recruiting suggest an unprecedented level of intractability in the supply-demand balance," he says. "Barring an exogenous event, the data suggest strong carrier profits are likely to extend through 2021 and well into 2022. The situation bodes well for new commercial vehicle demand."
Vieth reiterated that statement in the company's monthly Transportation Digest release.
"Next year will certainly show significant year-over-year growth, as the industry builds on the remarkable momentum seen in the second half of 2020 rebound," he says. "We are pleased that we called for a second half 2020 recovery, even in the darkest days of the COVID recession, putting the timing and direction for the rebound in the forecasters' win column. But candor makes us admit to surprise at the steepness of the growth trajectory over the last two quarters."
He says the speed of the recovery for the transportation industry has been stunning, and nearly as sudden as the onset of the pandemic. And while that doesn't eliminate the horror and misery COVID-19 has caused across the globe, it does offer some hope that 2021 will provide some business comfort to hopefully couple with the relief provided by the vaccine rollouts.
"While the toll in human lives and misery has been high through the entire episode, particularly the setbacks for many service-related sectors that continues to this day, goods-related businesses, from construction to manufacturing to distribution, have seen business snap back, in some cases exceeding pre-pandemic levels," Vieth says. "Clearly, the coronavirus continues to shape the heavy-duty business environment as we close 2020 and start 2021. But we also think it will have lingering impacts that will stretch through the five-year forecast horizon."