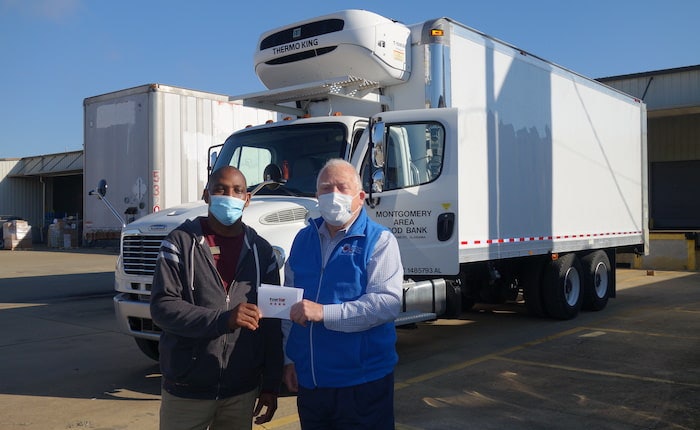 In an effort to combat hunger in Central Alabama, Four Star Freightliner has matched a generous donation to the Montgomery Area Food Bank from the Kocan Family.
Jerry Kocan, Four Star Freightliner Dealer Principal, donated $5,000 to the organization in recognition of his wife Nancy's birthday.
"She requested it as a birthday present," says Kocan. "My wife is simply the most generous and thoughtful person you would ever meet.  She felt others could use the help more than her and heard that the donations and stockpile of food depletes after the holidays, so she wanted to make a difference to those who need it."
Four Star Freightliner, realizing the impact a monetary donation can make in its community, decided to match the Kocan's donation. The check was delivered to Richard Deem, CEO of the Montgomery Area Food Bank. He was excited about the donation and said the $10,000 would provide more than 50,000 meals.
"We want people to know that hunger is 365 days a year," says Deem. "When you're dealing with a service area of 300,000 food insecure people, it's an every day  job."
The Montgomery Area Food Bank is part of the Feeding America national network of food banks. Through its network of partner agencies, the organization is able to reach people in 35 counties.