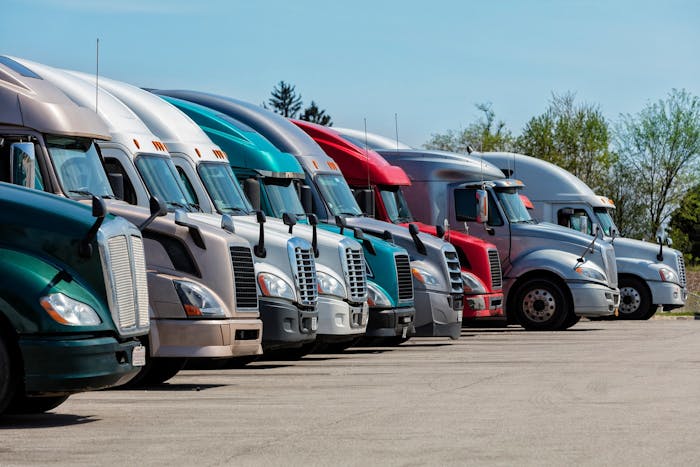 A new fleet sentiment survey from CK Commercial Vehicle Research (CKCVR) indicates today's commercial carriers believe improving vehicle safety and uptime are the most important factors when considering equipment to spec into a new heavy-duty truck. 
CKCVR conducted the survey to make three primary inquiries to carriers:
Most important factors when considering making a change to a carrier's trucks and trailers.
What has been the best equipment change a carrier has made in the past five years and what was the primary benefit of that change.
Best advice a carrier would give other fleet representatives regarding decisions to make equipment changes.
Conducted virtually last month, the survey questioned 24 carriers representing 5,600 trucks and more than 13,000 trailers. Responders represented an even cross-section of the fleet community, CKCVR reports, with a mix of vocations, fleet sizes and equipment ages. The largest responder operates more than 2,000 power units; the smallest was a single fleet owner-operator.
Requested to rank the importance of more than a dozen purchasing factors on a 1 to 5 scale (with 1 being not essential and 5 being essential), carriers uptime and vehicle safety were expectedly top-scoring factors at 4.5 apiece. Carriers also ranked satisfactory ROI and fuel economy at 4.3, the latter likely motivated by the sudden and precipitous increase in fuel costs this year.
Conversely, carriers responded compatibility with other systems (3.3) as a factor least likely to impact their purchasing, followed by weight and availability at preferred OEM (both 3.5). 
[RELATED: Carrier survey shows concerns about Biden]
Weight was a slightly higher priority in trailer purchasing, with responders ranking at as a 3.5, ahead of availability at preferred OEM (3.2) and ability to add customer segments (3.2). The most important factor when making trailer purchasing among CKCVR responders was durability and trailer life potential (4.5) and safety (4.4). Driver satisfaction and satisfactory ROI both followed at 4.1.
Regarding specific components, CKCVR says the most well received new systems in the truck market are disc brakes and collision mitigation (specifically Bendix Wingman). In the trailer space, disc brakes were again a fleet favorite, as well tire inflation and monitoring devices.
Carriers also provided CKCVR good advice for other carriers on the topic of equipment evaluation. Carriers noted the importance of doing comprehensive internal research to identify key pain points and relevant technologies before making any investments, as well as garnering driver input regarding technologies that could improve their working conditions. 
Said one carrier, "Consult with your drivers and get feedback on features they would like to have on the new units they will drive." Another added, "We always consult our most senior drivers on what changes they would like to see in our equipment. That way they feel their thoughts are important and feel part of the team."
Carriers also were vocal in their belief that testing technologies are essential to widespread adoption and fleet success.
"Every fleet has specific pain points. Understand which products best resolve those issues with minimal or no impact on other operations. Test first in your environment to see if it works for you, then transition," said one fleet responder.