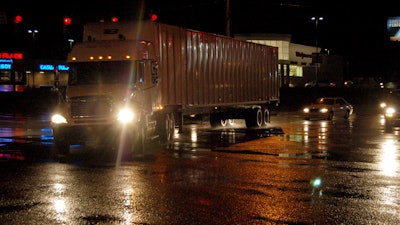 The driver shortage hasn't abated and fuel costs may once again be on the rise, but it's the new presidential administration that's generating the most fear and uncertainty for fleet customers in 2021.
According to a February survey by Commercial Carrier Journal (sister publication of Trucks, Parts, Service) of more than 500 active fleet professionals, nearly 20 percent of all fleet operators believe the political climate in Washington D.C. is likely to be the biggest challenge to their business in the year ahead. That's not quite the industry's biggest concern — driver availability remains a problem without a solution — but after four years under the business-centric leadership of President Donald Trump, carriers are overwhelmingly pessimistic about the influence President Joe Biden will have on the trucking industry and economy at large.
Many fleets say they are finally starting to get their businesses back to normal after a year of battling the business challenges of COVID-19. They say aren't ready to take on more challenges from an administration that they believe doesn't understand trucking and could impact monetary policy and impose regulations that could cripple their businesses. Difficult as it may be fleets say finding drivers is at least a challenge they can directly address. But with little to no say over what happens in D.C., carriers say they are nervous about how to prepare for the months and years ahead.
"The economy is on strong footing while recovering from the recession, however, it could be endangered or slowed dramatically if proposed and enacted policies start to present a drag on economic growth," says one for-hire carrier operating 100 to 250 units. "Costs will be increasing. That will most likely result in inflation very soon. How the Fed reacts to inflation, meaning will they allow it to run a while, before curbing back or react to inflationary results could impact the effects of the recovery."
Adds a smaller carrier with fewer than 10 power units, "If proposed taxes imposed on trucking that they are talking about come to fruition we will be hurt severely."
And such sentiments aren't limited to any one segment of the carrier community.
RELATED: Replacement demand, not fleet expansion, to be likely driver of truck purchases in 2021
Among fleets operating fewer than 10 power units, CCJ's survey discovered 22 percent rank the political climate in Washington as their biggest concern for the year ahead. Everyday challenges like fuel costs and driver availability followed at 21 and 17 percent, with the politically-adjacent concern of regulation clocking in as the biggest fear for 15 percent of small fleet responders.
Larger fleets of 10+ power units were expectedly more focused on driver availability (where it was a top concern for 41 percent of carriers with 10-100 power units and 57 percent of carriers with greater than 100 power units) but the political climate in Washington was firmly concern No. 2 for both camps at 18 percent. Fuel costs and regulations expectedly followed as concerns three and four.
But perhaps the most illuminating data from CCJ's survey was how much carrier concerns about politics have grown since the election. Only 9 percent of small fleet responders (fewer than 10 power units) and 8 percent of larger fleet responders claimed the political climate in Washington was their biggest challenge last year.
Asked to rank what impact the new administration will have on trucking (with 1 being extremely negative and 5 being extremely positive), fleets with fewer than 10 power units pegged the new Biden administration at 1.62. Fleets with more than 10 power units were only slightly more bullish at 1.72 — though large carriers with more than 100 power units did average a 1.88.
Fortunately for the dealer and aftermarket channels, this carrier pessimism is yet to force the fleet community into any huge downsizing plans.
Only 10 percent of fleets with more than 10 power units expect their fleet size to shrink in 2021 while 36 percent anticipate their number of trucks will grow. Among that segment for-hire carriers are slightly more optimistic than their private counterparts — 39 percent expect growth compared to just 25 percent among the private carriers. Conversely, 22 percent of small fleets with fewer than 10 power units are expecting fleet contraction, though that's only 2 percent higher than the number of fleets that did reduce their truck total in 2020.
Carriers also admit most of their rising cost concerns come from areas not supported by their dealer and aftermarket partners. Liability insurance premiums (26 percent) and fuel (10 percent) are the top two cost concerns for carriers with fewer than 10 power units. With larger carriers, fuel garnered 42 percent of votes as the largest growing expense, followed by driver pay (15 percent) and liability insurance (14 percent).
And when asked to elaborate on their concerns, both in Washington and in their terminals each day, carriers weren't shy.
It's "very scary for the little guy" right now, says a carrier with 10 to 24 power units. Another carrier of similar size, "Regulations and increasing fuel cost will have a huge negative impact in 2021."
A larger carrier with 501 to 1,000 power units also says he's "most concerned with tax implications and the negative tone that Biden puts on business in general," while a fleet operator running more than 1,000 trucks says bluntly, "2021 thru 2025 nothing but doom and gloom."
Even carriers who didn't specifically mention Biden still fear the decisions out of the beltway.
"I think the outlook is grim," says a carrier with fewer than 10 power units. "The polarization of the legislature with what appears to be a lack of interest of the majority party to work 'across the aisle' will make things worse."
Another similar carrier adds, "If the virus panic doesn't subside there will be continued economic devastation to many specialized segments of the transportation industry. Focus needs to be on recovery, not increased burdens for the trucking industry, and moving past the current virus-related restrictions on business. Allow local business owners to decide when, how and if they reopen not clueless politicians that have no skin in the game nor have even had to be responsible for payroll or a balance sheet."