Despite supply chain issues hampering production, Class 8 truck orders remained robust in February, ACT Research and FTR reported Tuesday.
FTR reported its preliminary Class 8 net orders for last month at 44,000 units, up 3 percent from January. ACT was a touch below at 43,800 units — a 4 percent bump from its January reading. Both totals were up more than 200 percent compared to the same period in 2020, and mark the fifth consecutive month of at least 40,000 orders. FTR adds last month's preliminary number is the second highest February in recorded history for Class 8 orders.
"There is tremendous pent-up demand for trucks [right now]," says Don Ake, FTR vice president, commercial vehicles. "There are severe bottlenecks in the supply chain involving computer chips, wiring harnesses, and a whole host of various parts. OEMs are under intense pressure to deliver as many vehicles as they can, as soon as they can."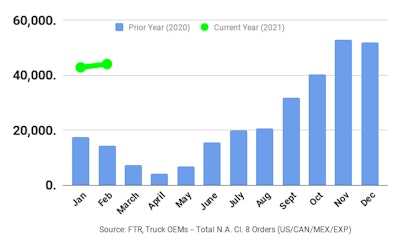 With orders at 338,000 units for the past 12 months, FTR says it is clear there is intense pressure on freight hauling capacity to get more trucks into service. In response, fleets continue to place orders in elevated volumes to try to acquire as many tractors as possible, the company says.
Kenny Vieth, president and senior, ACT Research, says the fleet demand for new trucks can clearly be tied to the broader positive economic trends.
"There is much to like in the current stream of economic data that indicate broad-based economic activity," he says. "As has been the case over the course of this pandemic period, economic growth is being driven by the goods-producing sectors of the economy. Consumer spending on goods, a red-hot housing market, a reaccelerating manufacturing sector, and pent-up inventories combine to provide very good visibility to near- to mid-term freight trends."
Contract freight rates and spot rates also are at record levels, giving fleets capital to add equipment — if available.
"Fleets have plenty of cash to spend. They desperately need trucks, so they are ordering at near-record levels," says Ake. "The supply chain is so dysfunctional right now and there are so many parts affected, it is difficult to predict when the logjam breaks loose. The vaccine should help component manufacturers find more workers. There are also lengthy waits at the ports causing delays in imported parts."
Demand also remains stable in the medium-duty space, though ACT notes the Class 5-7 market slipped slightly in the shorter February. Preliminary orders of 25,400 units was a 4 percent drop from January, but 12 percent better than the same period last year.
"The shift in consumer spending from experiences to goods continues to support providers of local trucking services, as e-commerce has grown by leaps and bounds in the pandemic economy," Vieth says of the medium-duty space.