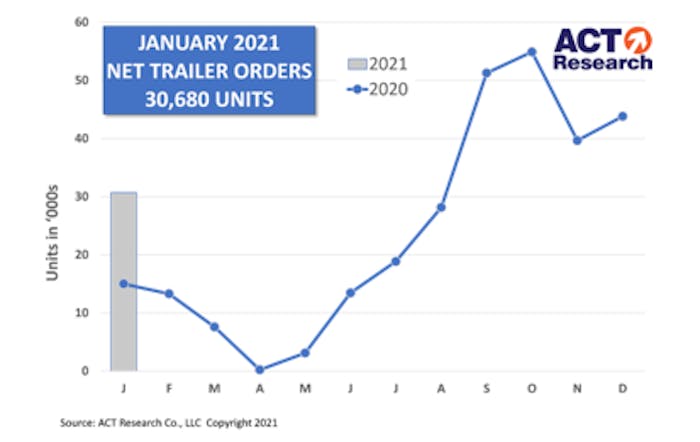 Although January net U.S. trailer orders of 30,680 units fell more than 30 percent from the previous month, orders rose nearly 105 percent compared to January of 2020, according to the recent issue of ACT Research's State of the Industry: U.S. Trailer Report.
Before accounting for cancellations, new orders of 32,100 units were down 30 percent versus December, but 91 percent better than the previous January. 
"OEMs posted almost 31k net orders in January, down sequentially but still a very solid month," says Frank Maly, ACT director, CV transportation analysis and research. That continued the growth of the orderboard, as orders were 66 percent above current build rates, and generates a conundrum for OEMs. Open production slots now come with 2022 dates and OEMs, concerned about component and materials costs, are hesitant to extend pricing commitments that far."
Maly adds, "Large fleets, driving much of the current demand, may also be hesitant to extend CAPEX plans that far. In the middle, small to medium fleets are struggling to recover from COVID lockdowns. Expect some order softness until production grows."
ACT Research's State of the Industry: U.S. Trailers report provides a monthly review of the current US trailer market statistics, as well as trailer OEM build plans and market indicators divided by all major trailer types.