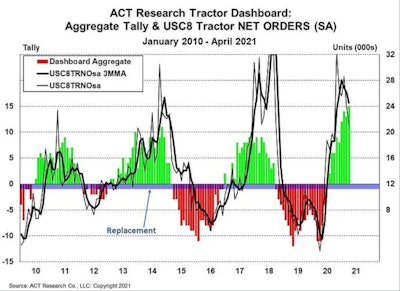 ACT Research announced Thursday its Class 8 tractor dashboard is illuminating nothing but positive indicators for the new truck market in the months ahead. ACT says this is the first time the dashboard has ever shown exclusively positive indicators.
According to Kenny Vieth, ACT president and senior analyst, the average reading for ACT's dashboard over the last four months is " an unprecedented 13.5 reading."
He adds, "For the unfamiliar, the dashboard is a collection of 15 forward-looking demand indicators that provide three to six months of forward visibility for orders. The metric is comprised of economic, freight, and ACT/industry-specific data series. In April's greatest-of-all-time print, optimists and pessimists can agree, 'it doesn't get any better than this'."
[RELATED: FTR: Don't worry about falling order totals, equipment demand remains sky high]
Vieth adds that the order lines on the dashboard graph illustrate the current rollover in the order trend. One will note the drop in the order trend preceding the opening of subsequent years' orders in each of the last two cycles, with significantly higher orders booked ahead of the second year of the cycle, he says.
"Given recent historical precedent, and with appropriate caveats in place, we would expect orders to warm starting in June, with a material jump beginning in July," he adds.