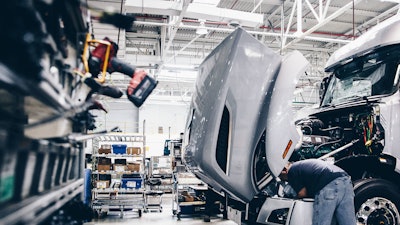 There has not been much change in trajectory of macro data points influencing commercial vehicle demand. Except for the asterisk that is the COVID Delta variant, economic strength is broad-based and concentrated in goods-related economic activity. However, Class 8 build rates tumbled in July, according to ACT Research's latest State of the Industry: NA Classes 5-8 Report.
"Historically, strong orders starting in Q4, the accumulation of large backlogs and growing lead times [BL/BU ratios] are a recipe for production rising sharply at this point in an industry up-cycle," says Kenny Vieth, ACT Research's president and senior analyst.
"There are growing pains at the start of every cycle, as the supply chain lurches unevenly into higher build rates, but this pandemic recovery cycle has been beset with extraordinary global issues that have amplified traditional ramp-up challenges from steel supplies to domestic staffing to semiconductors." Vieth says. "The Class 8 market saw build rates take a big step backward in July, as OEMs took down days and weeks to compensate for component shortages, especially semiconductors. During the month, Class 8 production fell to a 15-month low, as build per available day dropped materially below trend."
Regarding the medium-duty segment, Vieth says, "Classes 5-7 production also took a step back in July, but that step was more orderly and in line with expectations. Like Class 8, the medium-duty decline was also the lowest since May 2020's COVID-shutdown-related output. Additionally, we have heard/read that the heavy-duty OEMs are taking semiconductors away from their medium-duty products to maximize the value of the chips. Some large players in the MD space are doing the same thing, using chips that would have been destined for cars and pickups to maintain Classes 5-7 output."
ACT's State of the Industry: NA Classes 5-8 report provides a monthly look at the current production, sales, and general state of the on-road heavy- and medium-duty commercial vehicle markets in North America.