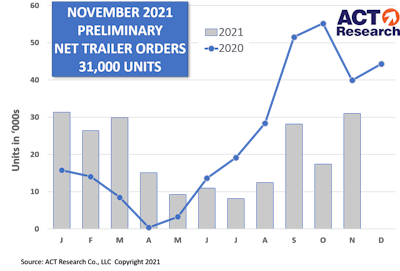 Preliminary U.S. trailer orders from November were between 31,000 and 32,000, according to ACT Research and FTR.
ACT reports trailer orders increased as some OEMs began to further solidify their 2022 production plans. Net orders of 31,000 trailers were posted during the month, a 78 percent increase from October, although it trailed the same month last year by approximately 22 percent.
"More OEMs began to accept orders in November, an indication that they are growing more comfortable with the likely path of market factors such as component availability and pricing, as well as staffing. Their plans for the upcoming year are beginning to firm, and this order volume will push the industry's orderboard horizon, on average, solidly into the third quarter of next year," says Frank Maly, ACT director CV Transportation Analysis and Research.
"While this preliminary estimate would rank November as the second-best net order month of the year, trailing only January, final data could well result in November standing as the best month of the year so far," Maly says.
FTR reports trailer orders for November bounced back to 32,000 units, an 89 percent increase month over month. While the order activity fell 23 percent below November of 2020, it was still the highest monthly total of the year and the best since December 2020. Trailer orders for the past 12 months now total 267,000 units.
[RELATED: What OEMs are saying about their order boards]
The increase in order activity was mainly a result of large fleets placing 2022 orders and OEMs having the confidence of entering them into the backlog. Dry and refrigerated van orders improved, and there was an increase in flatbed activity as well. The OEMs are finalizing their Q1 production schedules and attempting to manage backlogs while continuing to struggle with supply change disruptions, FTR reports.
"This is great news for the trailer market. Fleets are signaling they will need considerably more trailers in 2022 to handle the freight growth and relieve some of the pressures in industry capacity and the spot markets. It also indicates the OEMs are beginning to look forward beyond Q1 and expect to be able to lift build rates at some point. Orders have been under the 30,000-unit mark for nine months, so this is an impressive number in that regard," says Don Ake, FTR vice president of commercial vehicles.
"There is still much uncertainty as we enter 2022. Some OEMs are still reluctant to enter orders too far in advance under these conditions. Quoting prices for future sales remains a challenge and some OEMs are employing surcharges and other tactics to manage new orders and total backlog. Therefore, the November orders indicate that progress is being made. When there is enough certainty and confidence about 2022, orders should rise accordingly," Ake says.