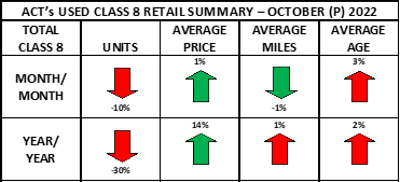 Retail sales volumes continued their downswing in October, ACT Research announced Tuesday.
Preliminary used Class 8 retail volumes (same dealer sales) were down 10 percent month over month. Retail pricing was steady, up 1 percent, while average miles declined by 3 percent and age was up 3 percent from September. Compared to October 2021, the average retail price was 14 percent higher, with average miles and age both greater by 1 and 2 percent, respectively.
"Drama in the used truck market increased in October, as the average retail sales price moved counter to expectations, ticking up a scant 1 percent month over month," says Steve Tam, Vice President, ACT Research. "While a welcome change from the monotonous drumbeat of persistent decline, nothing fundamental that would recalibrate expectations has changed."
Tam also reiterates his message from last week's UTA Convention regarding new truck builds and their long-term impact to the used truck sector into 2023.
"Tracking the flow of new truck assembly can be informative with regard to the supply of used truck inventory," he says. "As the OEMs have continued to make incremental progress on overcoming supply-chain constraints, marginal improvements in output have logically followed. Looking ahead, other forces will step in and offset those improvements."