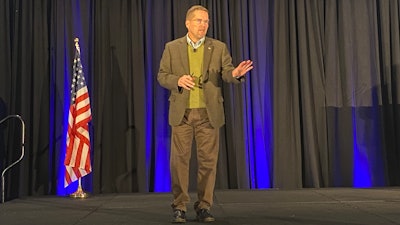 The next few months could be a tough stretch for the used truck market.
Confirming sentiments presented during prior sessions at the 2022 Used Truck Association (UTA) Convention, ACT Research Vice President Steve Tam reported Friday his company is anticipating used truck volumes will finish 2022 down six percent from last year and is predicting the market contracts by 10 percent year over year in 2023.
Tam adds retail pricing won't fare any better. After two years of strong year over year growth, ACT Research is predicting price to fall by nearly 40 percent overall in 2023.
Tam is hopeful the downswing won't feel as bad as those numbers might indicate — used truck pricing has been in decline for six months so continuing slippage isn't a sudden shift — but says with the economy and spot market continuing to shrink, there simply isn't enough used demand out there to sway the current trend.
"We're a little more bearish about next year than others," says Tam. "We are anticipating a shallow recession with GDP contraction in Q1 and a weak freight environment in the first half of the year."
Tam attributes the spot market for most of the change. He says the trucking industry received a huge influx of new carriers, mostly owner-operators, in 2021 when the market was hot and now those operations are struggling to secure loads and maintain capacity. He says thus far most appear to still be in business, repossession rates are low and the carrier population has not contracted much despite ongoing softening over the latter half of this year. But Tam says after buying a ton of trucks in late 2021 and earlier this year, very few of those small operations are expanding their fleets these days.
[RELATED: Prices continuing to fall for aging used truck inventory]
Additionally, he says the allocation challenges facing the new truck market are driving up the ages of trade-in equipment, meaning the inventory new to the used truck sector is incapable of being moved at the prices the market commanded earlier this year.
Yet Tam also notes the used truck market does have some things working in its favor that will hopefully limit the severity of the upcoming downturn.
One actually is the economy. ACT Research is anticipating a recession but Tam says the firm believes it will be short in length and depth. ACT expects GDP contraction to end in Q2 with the economy reverting to slow, stable and historical growth rates in the second half of 2023. He adds freight volumes and rates should rise at the same time and help pull the used market back into a positive direction.
"Used truck values will follow rates and economic uptick in latter half of 2023 and into 2024," he says.
Additionally, Tam notes that while allocation has increased the age of the used equipment available, it's also helped control inventory and kept the sector from becoming oversupplied. He says if OEMs could have produced trucks at a rate equaling demand over the past two years the used market would be flooded with equipment right now.
"That saved us from ourselves," he says. "We haven't seen the dam break yet on new truck production …. If we would have built those trucks, the world would be a different place right now."