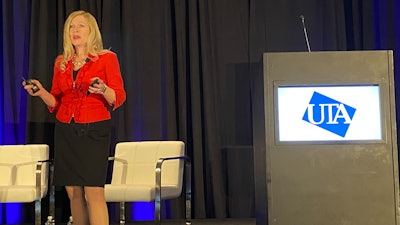 In the shadow of Washington, D.C., the Used Truck Association (UTA) brought in one of trucking's most connected people in the capitol to discuss how government regulation and intervention continues to impact the future of heavy-duty vehicles.
New American Truck Dealers (ATD) President Laura Perrotta concluded Thursday's opening general session at UTA's Convention in National Harbor, Md.
A registered lobbyist with two decades of D.C. experience, Perrotta joined ATD earlier this year after leading the American Highway Users Alliance. Also an alum of the ATD's parent company NADA, Perrotta began Thursday's presentation by touching on the value of lobbyists, and how trade organizations like UTA and ATD are vital to educating legislators to ensure laws and regulations developed in the best interests of Americans actually succeed in achieving their goals.
Perrotta said many congress people and federal regulators do want to create intelligent, well-crafted policy that supports all. But far too often their efforts are derailed by a lack of understanding of the industries they attempt to govern.
She says ATD believes that's what's happening today with efforts by California's Air Resources Board (CARB) and the Environmental Protection Agency (EPA) to develop next generation medium- and heavy-duty truck emission standards. She says the organizations are trying to push transportation into a lower emission future but they don't realize the guidance they are receiving from environmental groups are pushing the industry too fast, forcing OEMs to implement technical innovation at incredible rates and drastically increase the cost of commercial vehicles.
[RELATED: How California's autonomous Air Resources Board muddles national emission regulation debate]
Perrotta says a zero emission future is noble goal to have as long as that future can be realistically achieved. Truck makers have made great strides in reducing the emissions from new diesel engines — "people don't realize how clean new diesel engines are," she says — and they want to make them even cleaner. OEMs also want to offer electric, hybrid, hydrogen and other powertrain options to support duty cycles where they could be viable.
On that note, Perrotta urged the dealers in the room Thursday to engage with UTA, ATD and any other organizations they can to support those groups in their efforts to delay potentially damaging regulations. Perrotta says the EPA is still yet to finalize its 2027 regulations and says an educated, vocal trucking industry could motivate the agency to choose its more reasoned and measured potential option.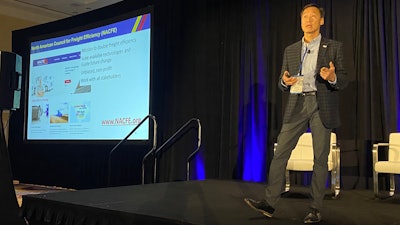 Impact of new technology on future equipment sales
Thursday's session also featured a detailed presentation from Yunsu Park of the North American Council for Freight Efficiency (NACFE), who showcased the resources NACFE produces for the transportation industry, then touched on advanced technologies that have recently entered or will soon be introduced into the trucking space that will increase freight efficiency.
Park said NACFE's goal is to "put quality information into the marketplace" so trucks owners, manufacturers and other industry stakeholders can make intelligent decisions in vehicle spec'ing and create a cleaner, more efficient trucking sector.
Park also noted used truck dealers' abilities to influence freight efficiency should not be overlooked. Dealers who are educated on technology and the applications where they succeed have a leg up when buying trucks and interacting with retail customers. Used truck customers might not prioritize freight efficiency as much as first owner fleets but Park said all truck owners want to reduce costs whenever they can.
[RELATED: Politicians can't stop a potential recession but consumers will impact it]
Park also took a segment of his presentation to address electric trucks, which NACFE believes will play a large part in trucking's future. Park said today there are very few commercial EVs on U.S. highways, but the carriers who are using them love them. Referencing the aforementioned regulations, Park said EV truck adoption is inevitable but admits it's going to be many years before they become a substantial portion of the U.S. truck population. He also notes when they finally do arrive, an opportunity may exist for the first company who uncovers their residual value and how they fit into the used truck sector.
"Maybe there will be a place, maybe there will not. These are questions that still need to be answered," he said.