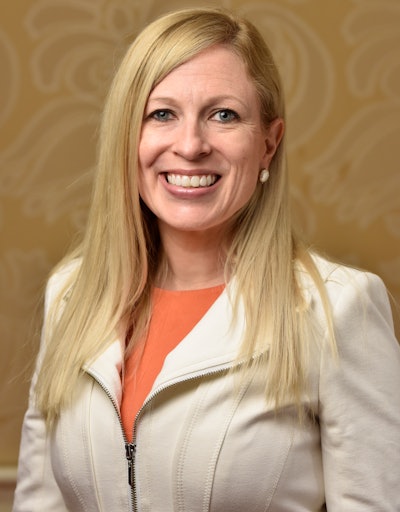 Earlier this year, the American Truck Dealers (ATD) announced the return of Laura Perrotta as the organization's newest president. Having previously supported ATD as senior director of legislative affairs for the National Automobile Dealers Association (NADA) from 2014 to 2019, Perrotta is no stranger to dealer operations and the commercial truck dealer space.
Now two months into her new role, Perrotta recently sat down with Trucks, Parts, Service to discuss what brought her back to ATD, why she believes ATD participation is vital for dealer groups and how ATD's advocacy work on Capitol Hill will influence the future of dealer operations.
TPS: What motivated you to return to the ATD?
Laura Perrotta: That's a good question. I really had a wonderful time my first stint at NADA/ATD. I had a really positive relationship with the commercial truck dealers, in particular, because I was lobbying on both car and truck issues. I stayed in touch with a lot of the truck dealers after my departure. The truck dealers are a very powerful and effective group, I was excited about the opportunity to come back and lead them.
What is your favorite aspect of the commercial truck dealer business?
I really do love big trucks. I find them very exciting. I've had the wonderful opportunity to get to drive them twice in different locations. It was one of the most exhilarating experiences of my career to get to do that.
Additionally, I have just great respect and appreciation for the hard work truck dealers do. Truck dealers are vitally important to the trucking ecosystem, getting the trucks out on the road to their customers and keeping them running and keeping them going. It is vital to all of America to have these trucks out there bringing goods to us.
What are your top priorities for your first year leading ATD?
Number one, our organization is very much focused on advocacy. It's a top priority for our organization — making big impact on legislative and regulatory front. That's really impacts our truck dealers. Whether it's focusing on FET repeal on Capitol Hill or fighting for a feasible NOx rule with the EPA. Advocacy is always going to be a top priority.
[RELATED: Proven strategies for winning in today's job market]
Education also is a top priority to our members and to ATD. ATD really offers top-notch training and I hope to encourage our dealers to tap into these resources. With consolidation and truck dealerships growing their footprints, it's really important to get to know these really big truck dealers and their employees and make sure they are aware of these resources they can tap into.
Finally, one of the things I really need to do right out of the gate is build strong relationships with our truck dealers, and our OEMs, suppliers and the trucking industry at large. I have a lot of doors to knock on and calls to make. But I want to make sure we are the most effective voice for the truck dealer.
How do you intend to achieve those goals?
It's all hands on deck. There's no question there. We're going to be tapping into our truck dealers a lot as far as leadership, such as our board line reps. Another tool we have in our toolbox is the ATAE network, which is the Automotive Trade Association Executives at the state levels and metro areas. I just think there is so much potential there to engage the truck dealers. Some are involved in ATD but not as involved at the state level, so there is so much work to be done there.
Also, we have so many resources at ATD right at our fingertips due to our being a division of NADA. We have all these resources so it's not all on me and, luckily, I have many, many people here that can support our efforts and help us to tackle our goals.
Why do believe advocacy is so important for commercial truck dealers?
It's the main reason most anyone joins any trade association. They want someone there watching for them 24/7, playing offense and defense on behalf of America's truck dealers — protecting them, supporting the franchise model and protect their business investments and their people. Truck dealers are under constant threat and we are here to protect them.
One of the biggest examples I can give right now is what is happening on the new NOx rule that's pending with the EPA. If the EPA's rule goes the way of option one, which is the California-like option, it could be catastrophic for the trucking world. These trucks might not be technologically not feasible, and extremely costly. Estimates I've seen could be upwards of $42,000 per truck, just for the technology. We saw this game before last time there were new regulations in the trucking industry in 2007. There was a pre-buy. Customers rushed out and bought trucks before the new technology was in place — those could be business-shuttering situations if not done right.
We need to make our case to support option two, that would keep these commercial motor vehicles affordable, reliable and viable in the marketplace but still at the same time support dramatic emission reductions. Because I must stress, we are very supportive of making cleaner trucks. We have been squeezing the NOx out of trucks for some time. We hope it can be done in a thoughtful way that won't affect employees and these small businesses across the country.
[RELATED: How California's Air Resources Board can muddle national emission regulation debate]
I'll also mention quickly ATD has our legislative fly-in this month and it's a great opportunity for our truck dealers to come in and hear from our members of Congress, hear from our legislative staff about the issues that are impacting them. Really get the training they need to go up to Capitol Hill and have successful meetings with their members of Congress. When a truck dealer comes through that process, they see the value of ATD at another level. They get to see the top-notch experts we have on the advocacy team working for them. We boil complex issues down to talking points they can share and be comfortable sharing. They get to really see the rubber hit the road in a different way. It's something for every truck dealer to consider doing at some point in their lives.
How will you leverage your experience as senior director of legislative affairs in your new role?
First and foremost, one of the easiest things for me is already knowing a lot of the key players. Knowing internally our legislative team very well. I picked right back up on working with them on daily basis on our issues. But also, knowing a lot of our truck dealers who have been politically engaged historically. I know a lot of our truck partners too. Even at my most recent organization, we had ATA, the owner-operators and UPS and FedEx all very engaged in our membership.
It always is easier when you start knowing the players right out of the gate. I also know one that that will help me in this role — coming from the legislative world at NADA — when you're in that work, you're very familiar with what is keeping truck dealers up at night. What are their major concerns? I'm excited to be able to tap into my knowledge historically to help the truck dealers right out of the gate.
How do you intend to develop relationships with your dealer members?
A lot of outreach and dealership visits, that's for sure. I'm already starting to place phone calls to some of our dealers. Trying to introduce myself, letting them know our plans for strategic planning, education, advocacy and what I hope to do in the future. I'll also do a lot of dealership visits. Just get out there on the ground and talk to their associates and touch and feel all areas of their businesses.
I already went out to our ATD Chairman Scott McCandless' dealership in Aurora, Colo., McCandless Truck Center, and spent about a day and half with his team and that was just so beneficial. I was able to ask him every question I had in my mind and he was very helpful and patient as I learned more about the truck dealer world. I also just visited RDO Truck Center in North Dakota and we were able to Senator John Hoeven (R-N.D.) out to the dealership and we were able to have a really nice visit.
I think you have to get out there and make the rounds. I'm someone who is very collaborative. That's how I operate. If someone has a problem I want them to feel very comfortable calling me. I think when you have those relationships, people want to engage more too because they see the value. They see how passionate you are about helping the truck dealers.
How vital is dealer cooperation to ATD success, and how to you intend to motivate dealer engagement in ATD?
Dealer cooperation is extremely important. We won't be effective if we don't have the truck dealers engaged on a day-to-day basis. I do think there can be varying levels of engagement. There are some dealers who I swear it feels like I'll talk to every other day, and other dealers that might just engage a couple times throughout the year. But I think ATD will be more successful if our members are participating.
These truck dealers are getting so big, we need to learn how to tap down into their layers and to their employees. I think training is a great way to start connecting with other employees. I've also heard great things about the 20 Groups. Our dealers who are engaged at that level get to see ATD at another depth. There's such a big book of different ways our members can tap into ATD and we need to make sure they are aware of all of those avenues. There's a lot we need to communicate to them.
Are there any specific issues facing commercial truck dealers that ATD has not previously addressed that you intend to prioritize?
I don't think there's anything we haven't addressed. I think if there's something that needs to be addressed, the truck dealers would make sure we would address it. I do think there is always more we can do to engage some folks. Some dealers may think ATD is just the [ATD] Show. Or the ATD Academy. We need to figure out how we can unfold for them very clearly the different avenues they can tap into.
One thing we are going to be doing this year is going through strategic planning. It's so vitally important we get dealer input because that might be where receive input on other things we can focus on. We are going to do a member survey this year and ask them questions on everything: "What are we doing well? What can we be doing better? What can we focus on that we're not?" We're also going to take an in-depth look at the ATD Show and how can we make it more viable into future.
I think through strategic planning we may uncover some areas we haven't been focusing on that we need to. And I think a strong strategic plan, driven through our membership's voice and what they need, is going to be our best guidepost.
How does NADA help support ATD initiatives? Why is it important ATD is aligned with NADA?
It is really important that ATD is aligned with NADA. If you could only see the resources we have through NADA it's just really mind-boggling. If we were just ATD on our own we wouldn't have the breadth of expertise that we have at our fingertips.
And NADA and ATD's issues are very well aligned. Truck and car dealer issues are really small business issues. Making sure regulatory and legislative worlds don't impinge upon a business's ability to excel and employee people and be thriving businesses within our communities. Those issues align so well and they are the biggest issues. Also the benefits for ATD to be aligned with NADA on the training side are really amazing. ATD Academy, the expert staff and consultants all viable thanks to our relationship with NADA.
I think even politically, the car dealer footprint is just so impactful and the truck dealer footprint is growing. They can feed off each other to provide a much larger voice.
What excites you the most about the future of the commercial truck dealer industry?
A lot of things. I think we have a really bright future. The number one thing that comes to mind is our Next Gen dealers and tapping into the next generation. I've met so many of them and they are so young and passionate. They really want to be involved. I think there is so much potential there. They are going to have to weather storms in the future some of our other dealers don't even know about; we're going to have to make them well prepared. We want to get them involved with ATD at the ground level and we want them to know we are here for them. We are their resource; we are their voice and we have to make sure that voice remains modern and relevant in the future.
I do think one of the great ways we do engage these young dealers is through our ATD Academy. I've seen it time and time again when I was in the legislative office. That class would come up to Capitol Hill for the day and you would always get two or three people in every class who would just be so amazed by what ATD was doing. They become your biggest advocates. Just getting them to see ATD as a guidepost for them.
I think ATD has a really strong future. Our strength comes from our truck dealer members.