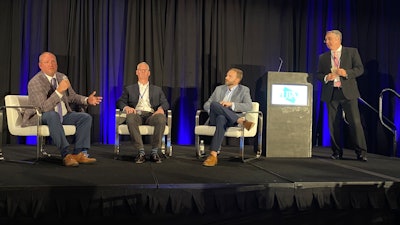 After a busy morning focused on the economy and evolving equipment technology, used truck values and depreciation rates took center stage Thursday afternoon at the 2022 Used Truck Association (UTA) Convention in National Harbor, Md.
In a panel discussion moderated by Trader Interactive's Charles Bowles, used truck valuation experts Scott Lubischer of Sandhills Global, Chris Visser of J.D. Power and Josh Giles of Black Book shared their insights into where they believe pricing is heading and how the used market is likely to transform in the months ahead.
The biggest reveal from the discussion was the consensus the used truck market will likely see two very distinct pricing tracts in the months ahead — with late model, low-mileage trucks settling into a favorable price depreciation rate while older equipment may continue tumbling.
The panel attributes the fracturing to the challenges in the new equipment market. Fleets are not getting new trucks when they need them so they're holding onto their best trucks for months and years longer than planned. This means the used truck segment where demand is highest is experiencing a downturn in supply. The panelists say dealers who can acquire late-model, low-mileage trucks in the months ahead should continue to have great success moving them. Depreciation in that sector is already starting to normalize, Visser says, and will likely reach historical averages in the coming months
The problem will be moving everything else. The panel says when carriers finally start receiving their delayed new truck deliveries the influx of high mileage trucks into the used truck sector will create challenges. Lubischer says he could see some carriers offloading the units they were forced to hang onto for extra periods directly into the auction space because supply will be so high. Giles adds pricing of these units will actually need to come down to create a viable, profitable business opportunity for retail dealers.
[RELATED: Politicians can't stop a potential recession but consumers will impact it]
A potential 2023 recession also could squeeze the used truck sector.
Visser says because used market demand is tethered so closely to freight, any downturn in freight volumes or rates hurts the channel. Additionally, the continued evaporation of the spot market could force more owner-operators to sell their trucks and return to company driving, pushing even more equipment into the used market.
But Thursday's panel discussion wasn't all bad vibes. Lubischer mentioned that as OEM supply chains normalize, he's hopeful they can create a more even production rate to replace the wild swings the market used to experience before the pandemic. Steady new truck orders would create downstream stability to used truck supply and enable the channel to better withstand changes in demand.
Additionally, the panelists noted current prices remain significantly higher than the market's pre-pandemic peak, meaning the market's second-half downturn hasn't dropped prices into any dangerous levels. Thursday morning's opening general session also showed more economic optimism for 2023 despite recession risks. A brief and shallow recession next year would likely not lead to major freight changes and ideally keep used truck demand constant.