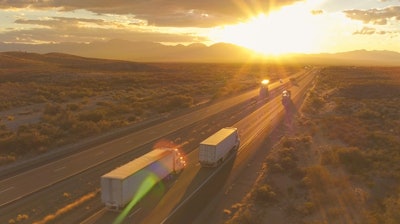 The latest release ACT Research's North American Commercial Vehicle Outlook expressed mild optimism for the commercial vehicle sector in 2023 despite minor headwinds.
The company reports moderating core personal consumption expenditures (PCE), slowing jobs growth, and decelerating wage inflation indicate the Fed's campaign to bring inflation under control may be bearing fruit, and the need for further interest rate increases may be limited.
All those factors impact freight volume and demand, which will drive market conditions.
"The critical factor in forecasting 2023 is identifying the point at which lower freight volumes and rates, coupled with higher borrowing costs compress carrier profits sufficiently to end the cycle," says ACT President and Senior Analyst Kenny Vieth. "Our current thinking is the negatives begin to weigh on orders as soon as first half of 2023, and more meaningfully by the second half. However, with healthy backlogs, early 2023 carrier profitability strength, and the potential for a CARB-induced pre-buy in California, there is a compelling case to be made for production volumes to be sustained at end-of-2022 levels through all of 2023."
Vieth elaborates.
"Reflecting softer macro and freight trends, ACT's forward-looking Tractor Dashboard remained in negative territory in November. While the dashboard has signaled incoming softness since March, the low single-digit negative readings seen in 2022 are mild, relative to the double-digit negative prints witnessed in late 2015 and early 2019," he says. "Part of the 'strength' in the current environment relates to the supply constraints that limited the industry's ability to build all the trucks that would otherwise have been produced in 2021 and 2022."